Recipes
Meatballs with apple, apricot and herb gravy
10 mins of preparation + 30 cooking time
5 as a mai servings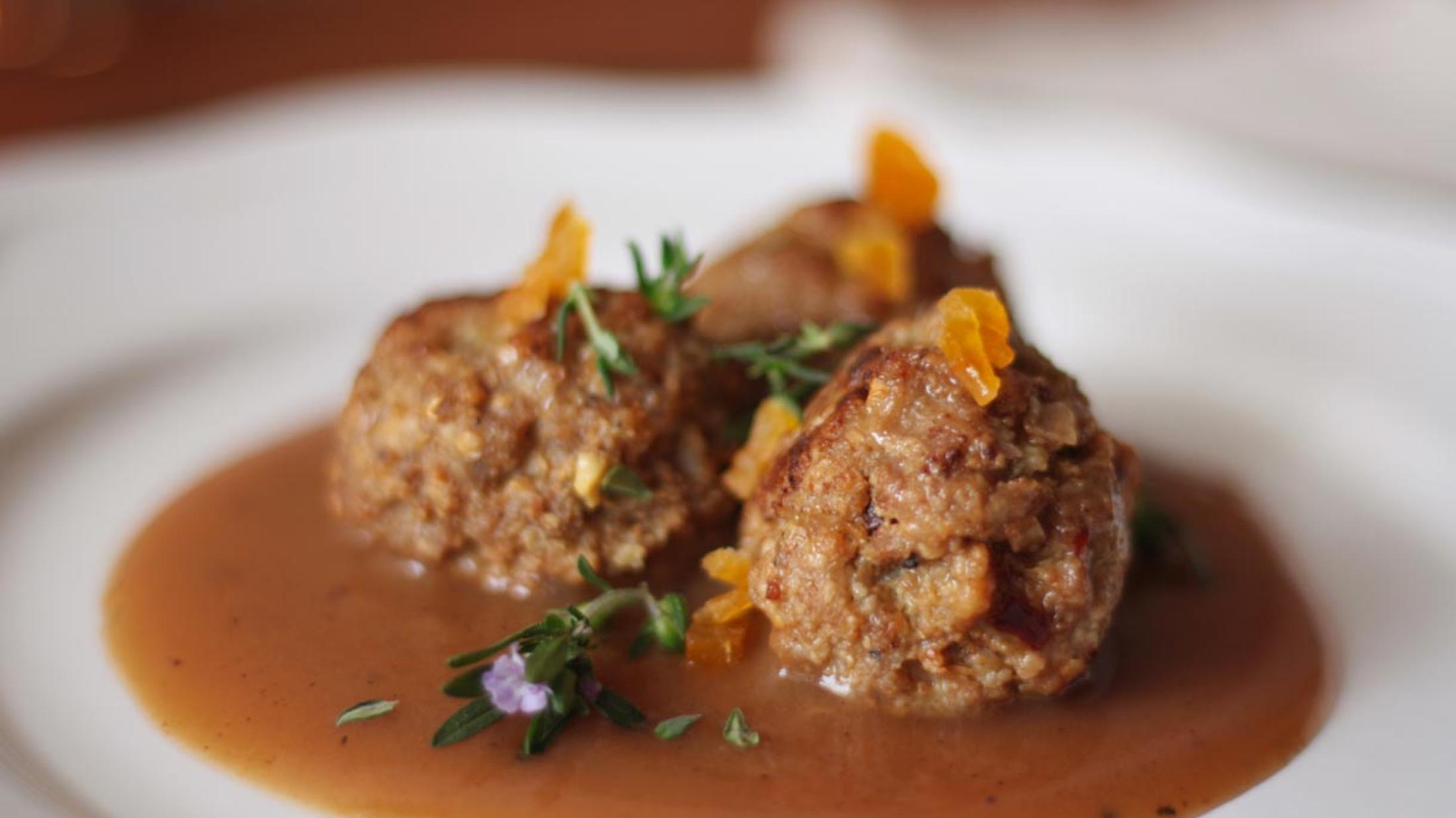 Ingredients
1 tablespoon (15 mL) butter
2 large red delicious apples, cored, peeled and roughly chopped
½ cup (125 mL) dried apricots chopped, plus two reserved for garnish (also chopped)
1 shallot, peeled and halved
½ cup (125 mL) white wine
1 cup (250 mL) chicken or vegetable stock
2 cups (500 mL) plus 1 tablespoon (15 mL) fresh apple cider
1 dried bay leaf
1 teaspoon (5 mL) whole black peppercorns
2 sprigs fresh savory
2 sprigs fresh thyme
1 teaspoon (5 mL) salt
1 tablespoon (15 mL) cornstarch
Preparations
Prepare meatballs as per

recipe

.
In a large pan over medium heat, brown the butter, apple, apricot and shallot, approximately two minutes.
Deglaze the pan with white wine and let the alcohol cook off, approximately one minute.
Add the stock, apple cider, bay leaf, peppercorn, savory, thyme and salt. Reduce heat to low, simmer for 15 minutes. Remove pan from heat and strain out the solid bits, leaving the liquid.
Return the liquid back to the pan and cook for 10 minutes over medium-low heat, stirring occasionally.
In a small bowl, whisk together the reserved tablespoon of apple cider and cornstarch. Add mixture to sauce and cook for 3 more minutes, stirring occasionally. Remove from heat.
Top meatballs with sauce and garnish with chopped apricots and a sprinkle of fresh herbs.