Recipes
Mexican pork tacos al carbon
15 mins of preparation + 35 cooking time
4 servings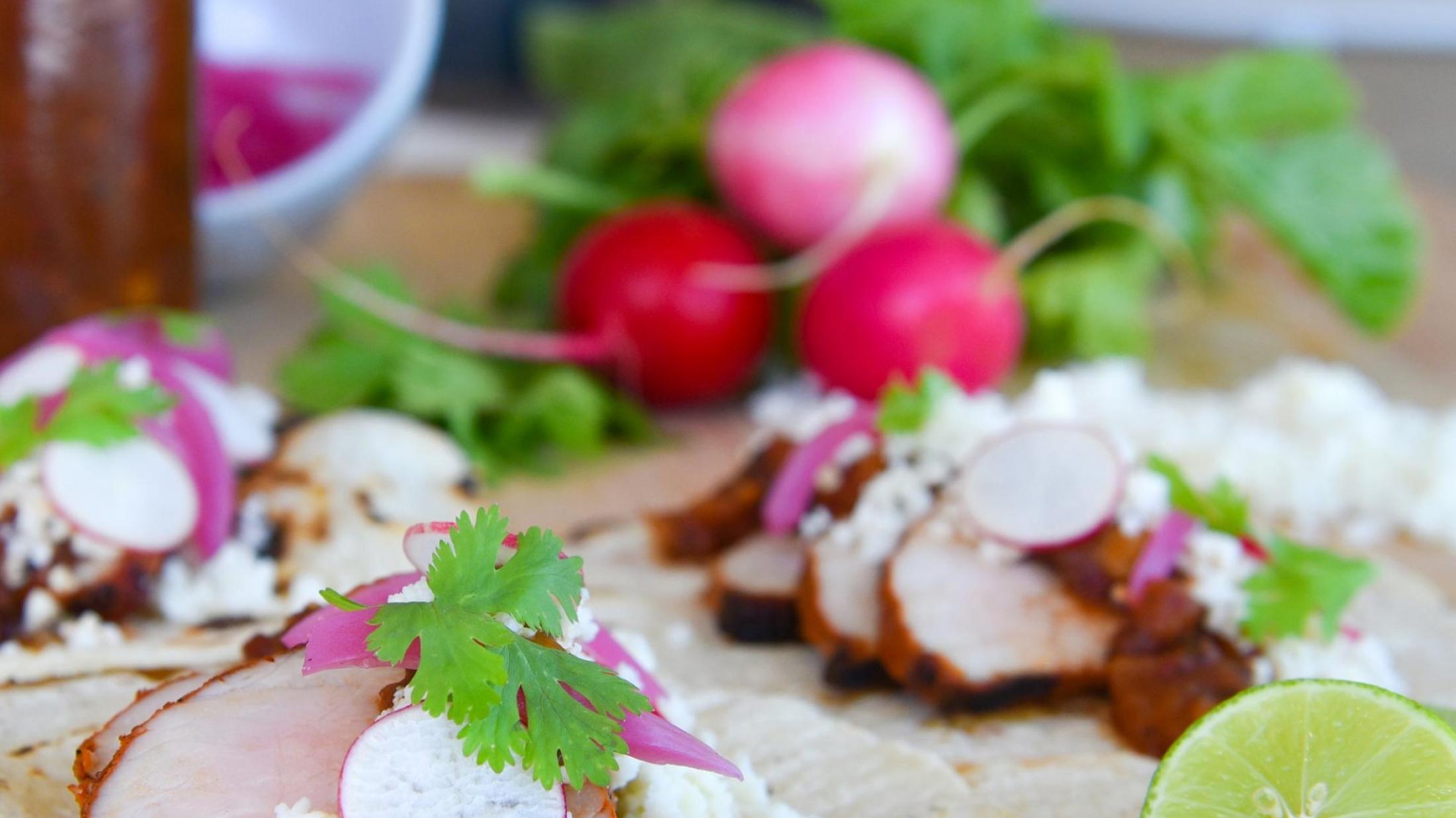 Ingredients
1 package (approx. 500 g) duBreton Mexican BBQ Pork Boneless Loin Filet
1/4 cup (60mL) oil with high smoke point (such as vegetable or grapeseed oil), for the grill
12 Corn Tortillas
1 cup (250mL) salsa roja (recipe below)
1/4 cup (60mL) pickled onion (recipe below)
1/4 cup (60mL) organic radish, thinly shaved
1-1/2 cup (375mL) queso fresco
1/4 cup (60mL) organic cilantro
Salsa Roja:
3 organic plum tomatoes, quartered
1 cup (250mL) organic Spanish onion, sliced
1/4 cup (60mL) chipotle peppers (canned)
2 dried ancho Chile peppers
1 organic red pepper, seeded and diced
3 organic garlic cloves, crushed
Kosher salt and freshly ground black pepper
1 Tbsp. (15mL) coriander seeds
1 Tbsp. (15mL) cumin seeds
2 sprigs cilantro
2 Tbsp. (30mL) dried oregano, preferably Mexican
3 Tbsp. (45mL) extra-virgin olive oil
1/2 cup (125mL) hot water
1 Tbsp. (15mL) sugar
1/2 organic lime, juiced
Pickled Red Onions:
1/2 cup (125mL) water
1/4 cup (60mL) sugar 
1 cup (250mL) white vinegar
2 medium red onions, thinly sliced
Preparations
Salsa Roja:
Pre-heat BBQ to medium heat.
Take a large piece of heavy duty aluminum foil and create a pouch, add tomatoes, onions, peppers, garlic and salt and pepper, close the package tightly and place on the grill.
Roast for 30-40 minutes.
Carefully open the foil package and transfer entire mixture to a blender (mixture will be hot).
Add coriander, cilantro, cumin, oregano and olive oil.
Blend until smooth (you may need to work in 2 batches).
Once pureed, transfer to pot and heat over low heat adding a little water if the salsa is too thick.
Stir in the sugar and lime juice and season with salt and pepper, to taste.
Transfer to a large serving bowl.
Pickled Red Onions:
Place water, sugar and vinegar into a pot and bring to a boil.
Once the liquid is boiling, add the onions and remove from the heat.
Chill.
Pre-heat BBQ on high heat until the grilling grates are hot, about 15 to 20 minutes, then brush the grill with oil. Remove the Boneless Loin Filet from the package and place in the centre of grate. Discard packaging and remaining marinade. Cover and cook for 12 to 15 minutes, turning every 1-1/2 to 2 minutes, until the meat reaches an internal temperature of 140°F in the thickest part.
 
Remove meat from the grill, wrap tightly in a large piece of heavy-duty aluminum foil and let rest for 10 minutes. Transfer meat to a cutting board and slice thinly.
 
Place corn tortilla shells onto the grill and heat for 30 seconds on each side, transfer to a platter for serving.
 
To assemble tacos, place 3 slices of pork on each tortilla shell, drizzle with salsa roja and top with pickled onions, shaved radish, crumbled queso fresco and cilantro.