Recipes
Purple pork salad with green avocado dressing
20 mins of preparation + 30 cooking time
6 servings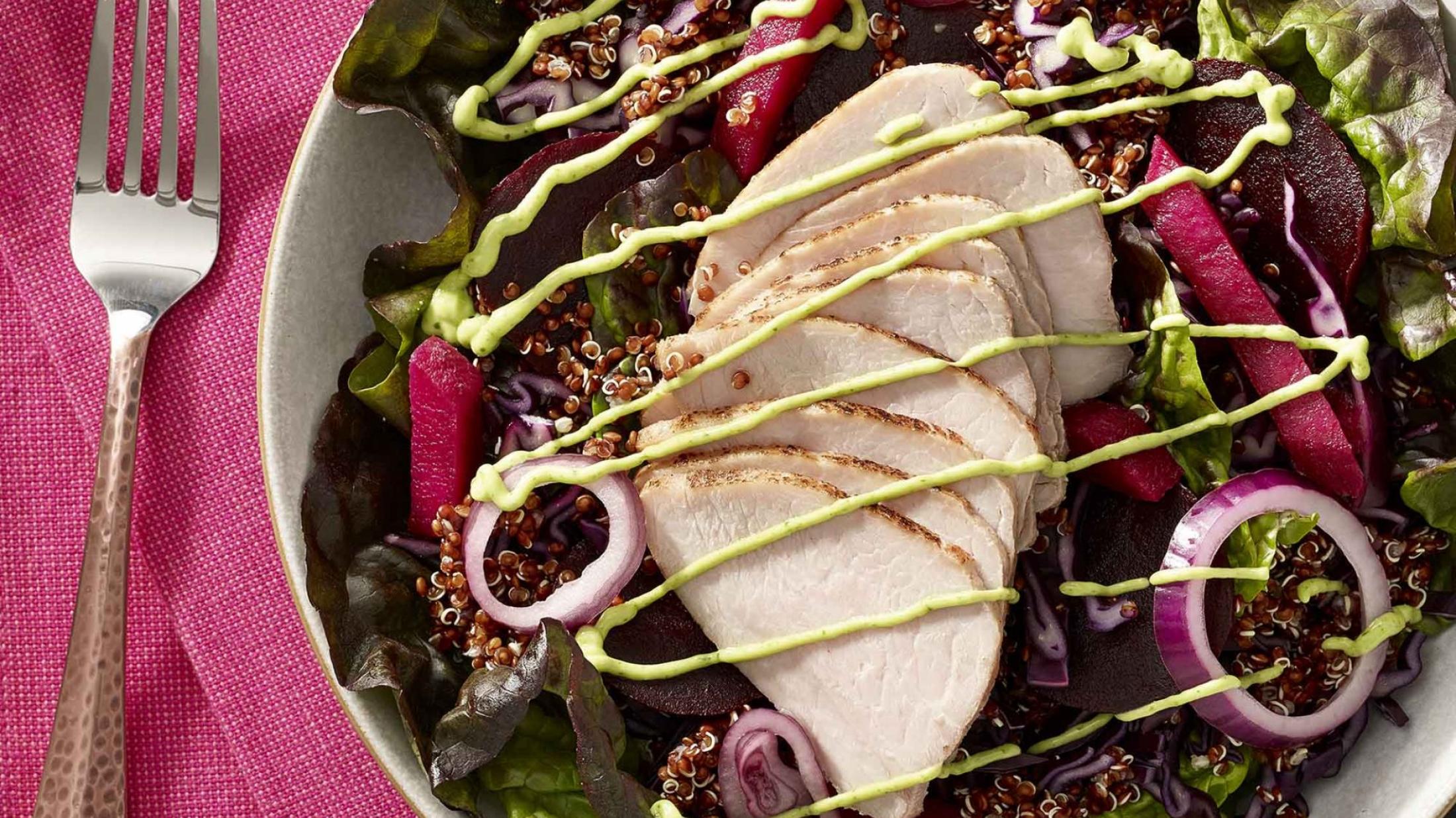 Ingredients
½ red onion, thinly sliced
30 mL (2 tbsp.) of lemon juice
Salt and fresh ground pepper
250 mL (1 c.) of red quinoa
1.5 L (6 c.) of red leaf lettuce
750 mL (3 c.) of red cabbage, thinly sliced
500 mL (2 c.) of cooked beets, sliced
250 mL (1 c.) of pickled turnips
Creamy avocado dressing:
1 avocado
250 mL (1 c.) of spinach
125 mL (½ c.) of plain yogurt
2 mL (½ tsp.) of lemon zest
45 mL (3 tbsp.) of lemon juice
125 mL (½ c.) of fresh herbs to taste (basil, dill, chives, cilantro, etc.)
Salt and fresh ground pepper
Preparations
Place the red onion in a bowl, add lemon juice and season to taste. Let marinate while preparing rest of meal.
Cook the loin filets according to the package directions. Let stand for at least 5 minutes before slicing.
In a pot, cook the quinoa in salted water like pasta for 12 minutes. Drain, cool under running cold water, and drain again.
Using a mixer, purée the vinaigrette ingredients while gradually adding 125 mL (½ c.) of cold water to achieve a smooth, creamy consistency, and season to taste.
Distribute the lettuce and cabbage onto plates followed by the quinoa, beets, onion and turnips and top with the vinaigrette. Serve immediately.
Cooking on barbecue:
Preheat barbecue to medium-high heat.
Cook the loin filets for 15 to 17 minutes.