Recipes
Sautéed pork medallions with cherry maple sauce
20 mins of preparation + 10 cooking time
4 servings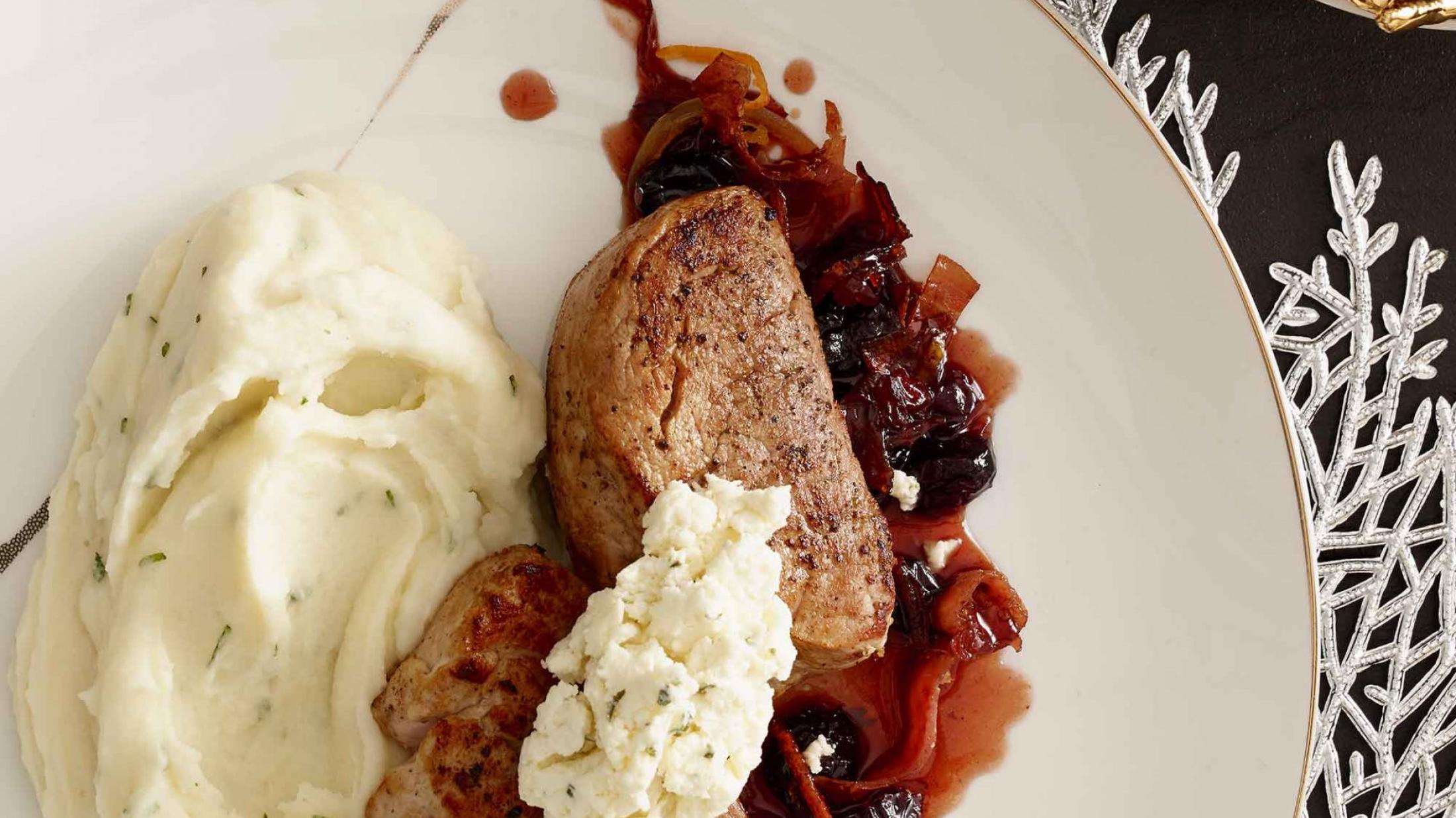 Ingredients
1 duBreton Pork Tenderloin, sliced into 8 even medallions
Salt
Pepper, freshly ground
3 tsp. (45 mL) butter, divided
2 tbsp. (30 mL) minced onion
2 ounces (60 g) prosciutto, shredded
6 ounces (180 g) dried cherries, roughly chopped
1 tbsp. (15 mL) orange zest
4 ounces (125 mL) Grand Marnier, or other orange liqueur
8 ounces (250 mL) cherry vinegar
3 ounces (95 mL) maple syrup
4 ounces (115 g) fresh cheese seasoned with herbs and garlic (such as Boursin)
Preparations
Season each medallion with salt and pepper.
Melt 1 tbsp. (15 mL) butter in a large nonstick skillet; sauté medallions, approximately 3 to 4 minutes on each side, until nicely browned and cooked through. Place medallions on a warm plate and cover with aluminum foil.
Melt remaining butter in skillet and sauté onion and prosciutto until onion is tender and prosciutto is starting to crisp, approximately 2 minutes.
Add cherries and orange zest to skillet; continue cooking while stirring for 1 minute.
Carefully add Grand Marnier and immediately ignite with a long fireplace match. After the flames subside, add vinegar and reduce liquid by nearly half.
Add maple syrup and bring to a boil.
Return medallions to skillet and heat through, turning one. If required, use a spoon to thoroughly coat the medallions with sauce.
Serve medallions in a pool of sauce and garnish with cheese piped from pastry bag.