Recipes
Bbq pork and old cheddar mini-burgers
15 mins of preparation + 25 cooking time
12 servings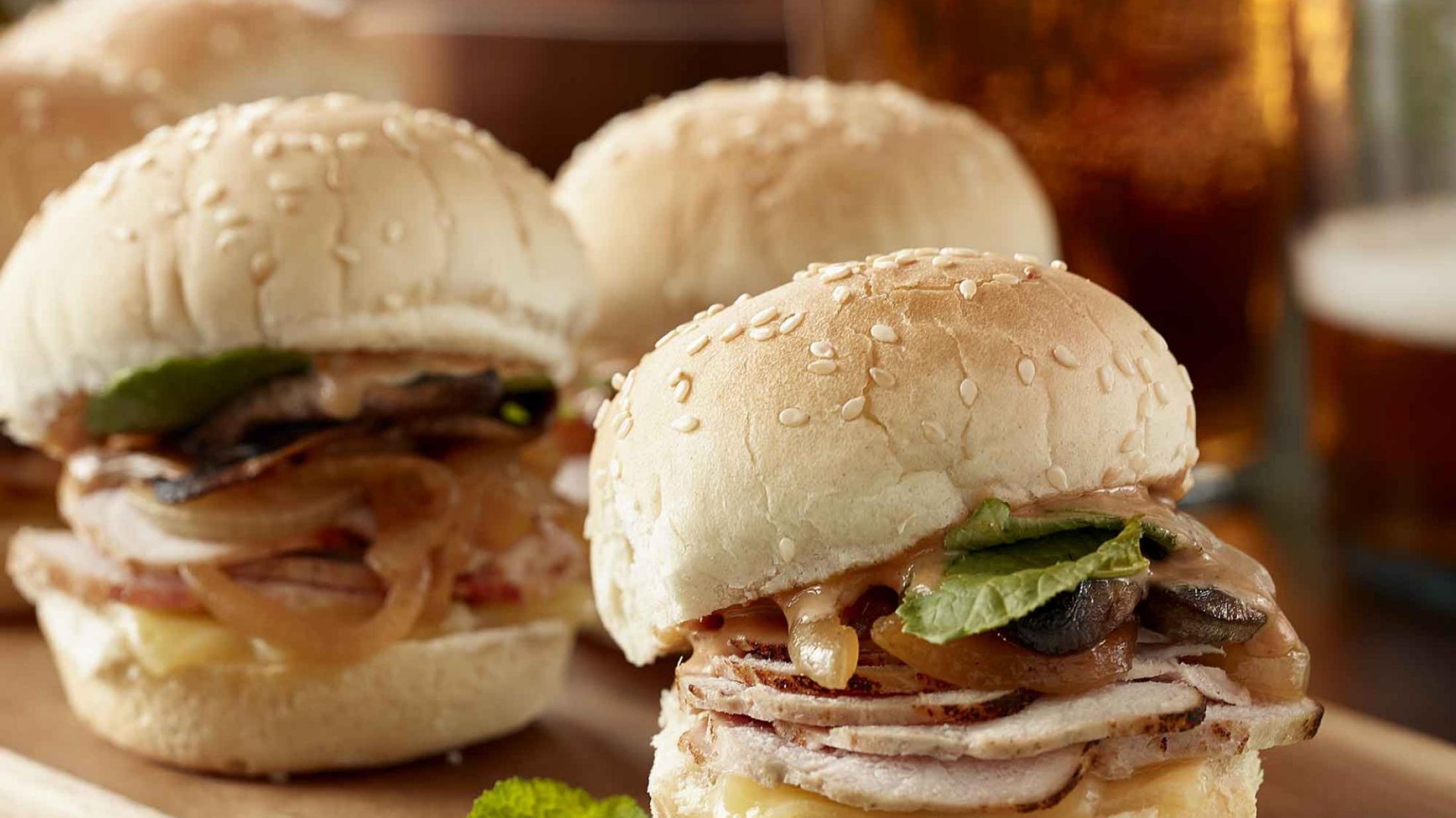 Ingredients
30 mL (2 tbsp.) of butter
1 onion, thinly sliced
227 g (8 oz.) of sliced white mushrooms
80 mL (1/3 c.) of red beer
12 mini-burger buns
150 g (5 oz.) of old cheddar, sliced
30 mL (2 tbsp.) of mayonnaise
30 mL (2 tbsp.) of barbecue sauce
About 250 mL (1 c.) of baby kale
Preparations
Cook the loin filets according to the package directions. Let stand for at least 5 minutes before slicing.
In a pot, heat 15 mL (1 tbsp.) of butter over medium heat and cook the onion for 10 minutes until caramelized.
In a pan over high heat, melt the butter and sauté the mushrooms. Season to taste.
Pour 60 mL (¼ c.) of beer over the mushrooms and the remainder over the onions. Cook until the liquid evaporates.
Preheat oven to 350°F (180°C).
Slice open the buns and arrange on a baking sheet.
Garnish the bottom halves with cheese. Heat the buns in the oven for 5 minutes or until the cheese has melted.
Meanwhile, combine the mayonnaise and barbecue sauce.
Garnish the buns with sliced pork, sautéed mushrooms, caramelized onions and kale.
Brush the top halves of the buns with the mayo and barbecue sauce mixture, close the burgers and serve.
Cooking on barbecue:
Preheat barbecue to medium-high heat.
Cook the loin filets for 15 to 17 minutes.
The onions and mushrooms can be cooked on the grill in a cast iron pan or aluminum plate.
Lower the heat to minimum before heating the buns.