Recipes
Grilled pork loin chops with three chili chutney
30 mins of preparation + 60 cooking time
2 servings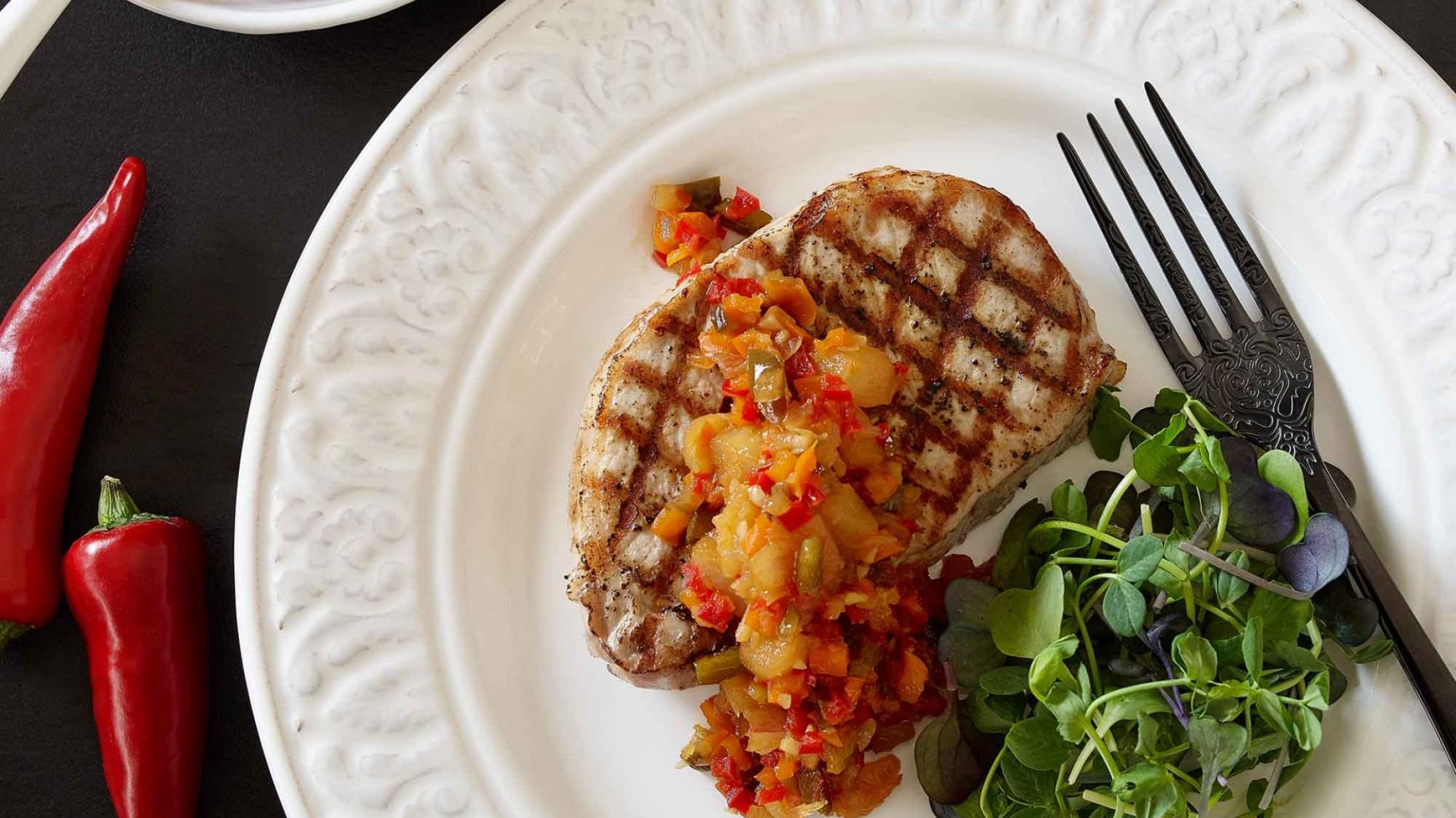 Ingredients
3 Tbsp. (45mL) olive oil, plus 1 tsp. (5mL), divided
Salt and pepper
1 medium Poblano pepper
1 shallot, chopped
1 clove of garlic, chopped
4 medium Aji Amarillo peppers,
4 medium red chili peppers, seeded and chopped
1 14 oz. (400 g) can pineapple, chopped, plus 2 Tbsp. (30mL) syrup reserved
2 Tbsp. (30mL) of coconut sugar
2 Tbsp. (30mL) of white wine
Preparations
Brush pork with 1 Tbsp. (15mL) olive oil, season with salt and pepper and allow it to come to room temperature, approximately 20 minutes.
Heat oven to 400°F (205°C). Coat Poblano pepper with 1 Tbsp. (15mL) olive oil and roast until softened, approximately 10 to 12 minutes. Remove from oven. Once cool, remove the skin and seeds. Chop into small pieces.
Set a medium saucepan over medium heat and add remaining olive oil. Sautee the shallot and garlic until softened, approximately 8 minutes. Add Aji Amarillo and red chilies and sauté for 10 minutes, stirring frequently. Add chopped pineapple and reduce heat to medium low and cook for 10 more minutes, stirring frequently. Add pineapple syrup and the coconut sugar and cook for another 10 minutes, or until thickened. Add white wine and continue cooking until absorbed, about 10 more minutes.
Meanwhile, heat an indoor grill pan or outdoor grill to medium heat. Grill pork for approximately 3 to 4 minutes per side, or until the internal temperature reaches 165°F (70°C). Remove from heat and let pork rest.
Top with chutney and serve with salad.