Recipes
Roasted garlic pork chops and white vegetable purée with old cheddar
20 mins of preparation + 30 cooking time
6 servings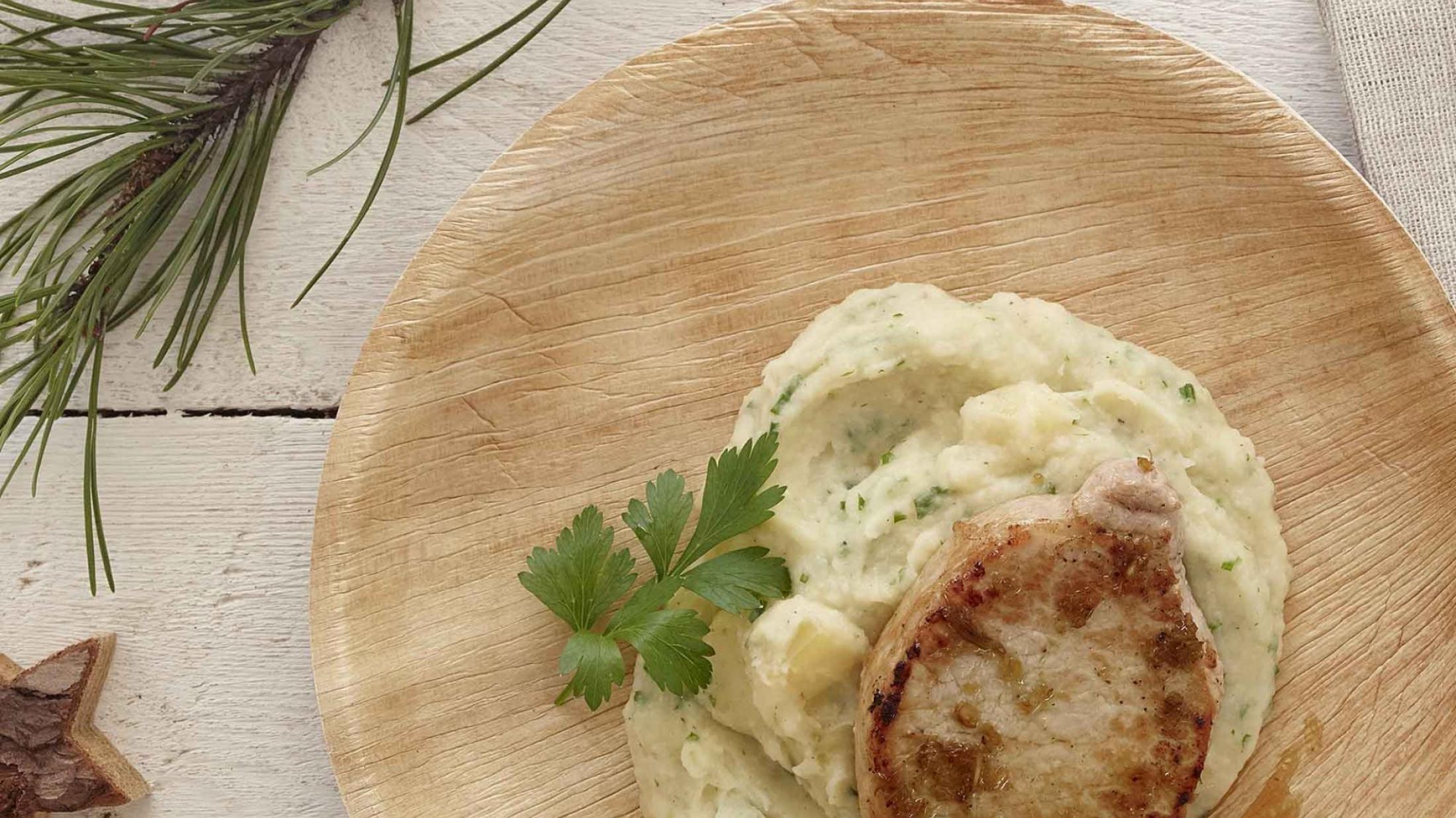 Ingredients
2 cups (500mL) organic turnip, peeled and diced
2 cups (500mL) organic parsnip, peeled and sliced
4 cups (1L) organic cauliflower, cut into large pieces
1-1/2 cup (375mL) organic potatoes, peeled and diced
Sea salt
2 Tbsp. (30mL) organic butter
1/2 tsp. (2mL) organic celery salt
1/4 tsp. (1mL) organic cayenne pepper
Pinch ground organic nutmeg
Fresh ground pepper
1 Tbsp. (15mL) organic olive oil
1-1/2 Tbsp. (22mL) organic fermented garlic flowers
1/4 cup (60mL) fresh organic parsley
1/4 cup (60mL) fresh organic chives
1-1/2 cup (375mL) organic cheese of choice, cut into small cubes
Preparations
Preheat oven to 350°F (180°C).
In a pot, combine vegetables and cover with water. Add a generous pinch of salt and bring to a boil. Continue cooking until the vegetables are tender, approx. 15 to 20 minutes.
Drain vegetables, return to pot and mash. Add butter, spices, and salt and pepper to taste. Place pot over low heat.
In a large oven-safe pan, heat oil and sear pork chops for 2 minutes on each side. Season pork and coat with garlic flowers. Transfer to oven and continue cooking for 6 to 8 minutes.
Add herbs and cubed cheese to vegetable purée. Stir and let some of the cheese melt.
Distribute onto plates and then add the chops and top with drippings.