Recipes
Pork loin chops marbella
15 mins of preparation + 20 cooking time
2 servings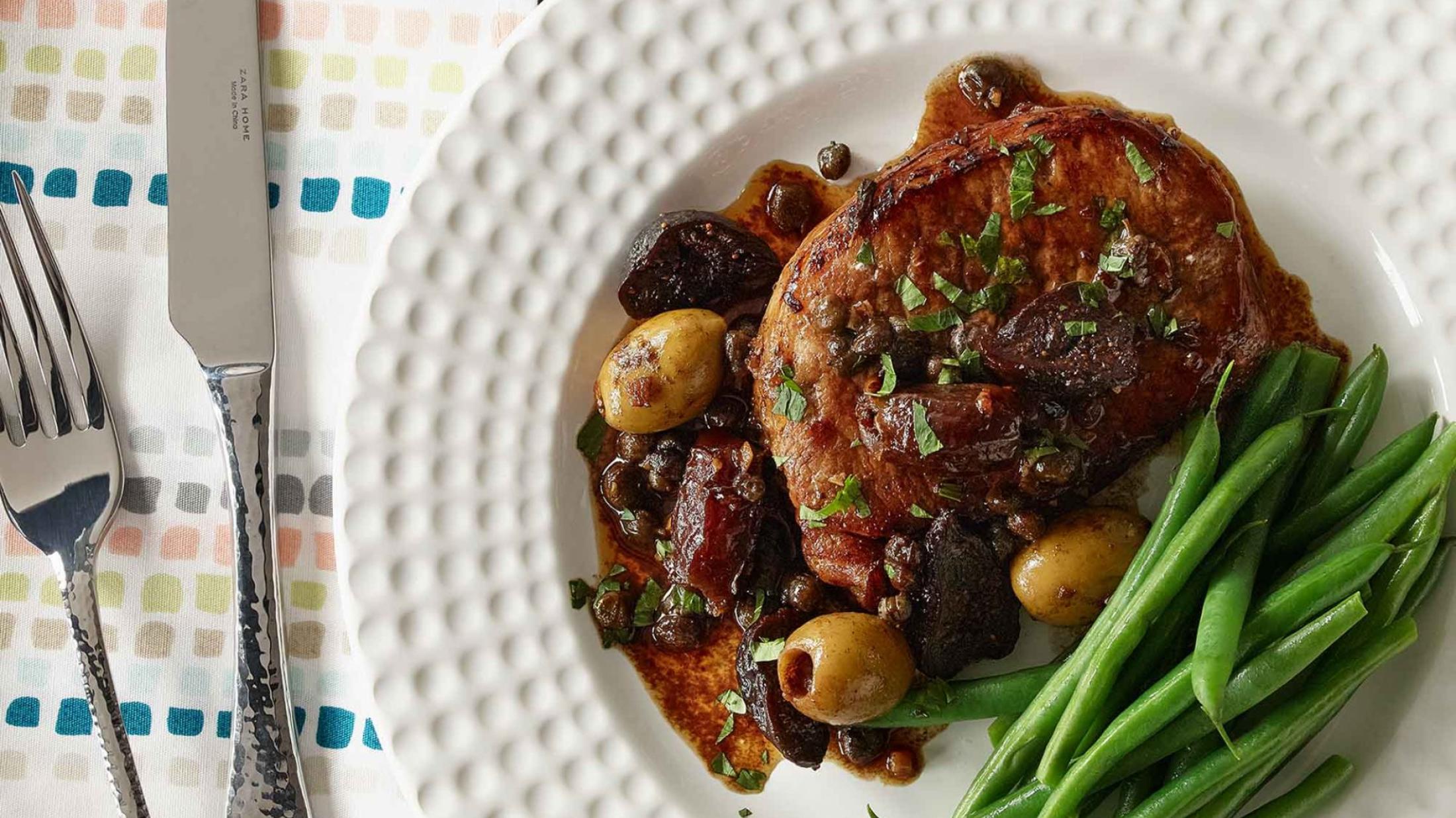 Ingredients
1 package (2) duBreton Boneless Loin Chops, Centre Cut
4 large garlic cloves, finely minced
6 sprigs fresh thyme, leaves stripped from stem and coarsely chopped
1/4 cup (60mL) balsamic vinegar'
1/4 cup (60mL) olive oil, plus 1 Tbsp. (15mL)
1/2 cup (170 g) dried figs, halved
4-5 dried dates, pitted
1/4 cup (60mL) green olives, pitted
1/4 cup (60mL) capers
1 scant Tbsp. (14mL) caper juice, from caper jar
2-3 fresh bay leaves
Freshly ground salt and black pepper
1/2 cup (60mL) white wine, plus reserve extra if needed
1/4 cup (21 g/60mL) brown or coconut sugar
Chopped flat-leaf parsley, for garnish
Preparations
Place pork a dish or ziplock bag. Mix together garlic, thyme, vinegar, olive oil, figs, dates, olives, capers, caper juice, bay leaves and salt and pepper. Add to pork. Cover dish or seal ziplock bag and refrigerate for four hours.
Heat oven to 350°F (180°C). Remove pork from marinade, pat dry with paper towel and bring to room temperature, approximately 20 minutes. Reserve marinade for later.
Heat 1 Tbsp. (15mL) olive oil in an oven proof skillet. Sear pork until browned on both sides, about 1-2 minutes per side. Remove pork and deglaze pan with white wine. Add reserved marinade and cook, covered, for 5 minutes.
Return pork to pan and sprinkle with brown sugar. Add additional white wine if more liquid is required.
Place pan in oven and bake for 10-15 minutes, or until pork reaches an internal temperature of 140–145°F (60°-63°C). Remove pork to plate or serving dish. Spoon the cooked marinade mixture on top of pork. Garnish with parsley.