Recipes
Croque madame béchamel
10 mins of preparation + 15 cooking time
2 servings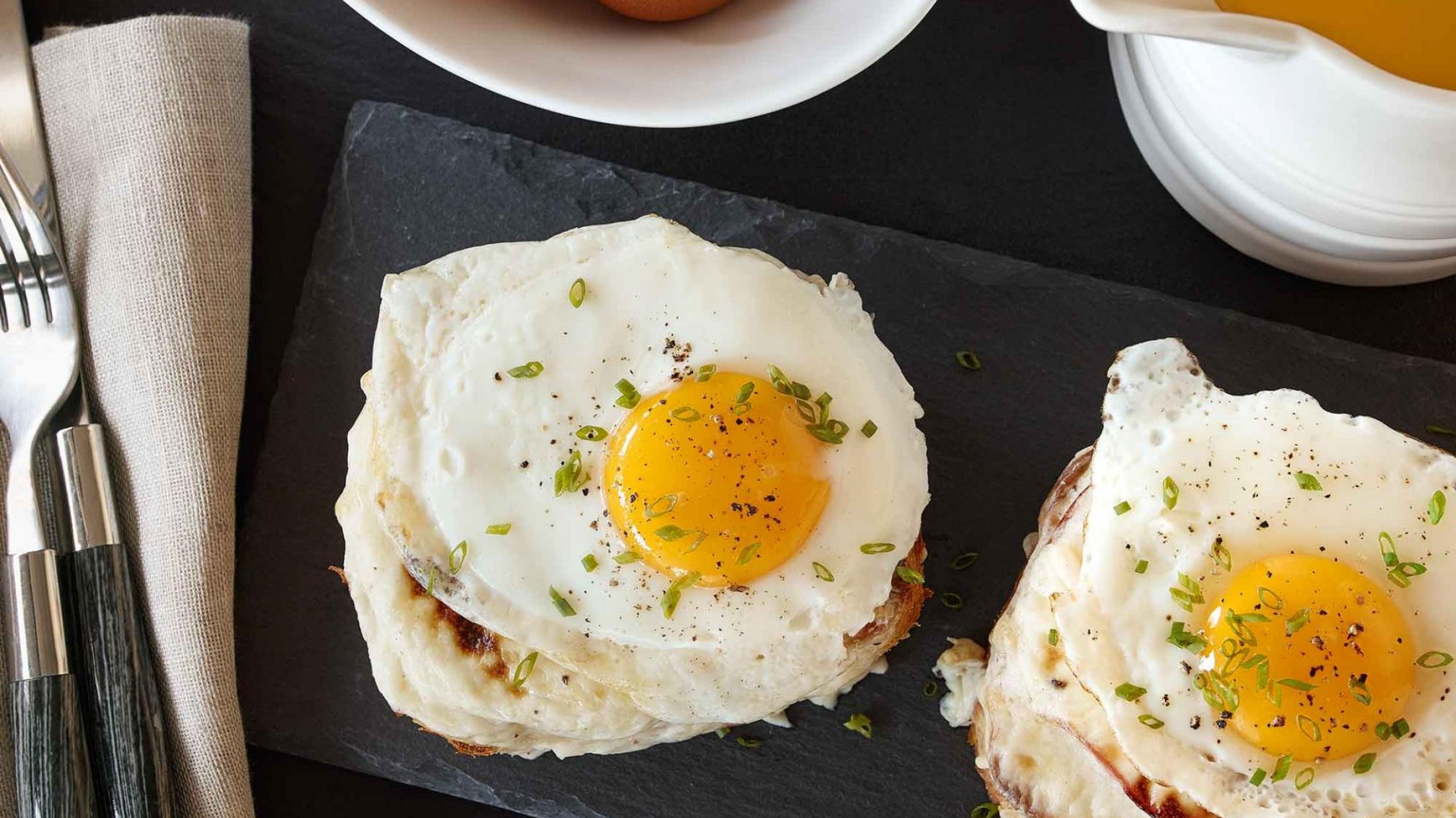 Ingredients
4 slices Brioche bread, thickly sliced
4 Tbsp. (60mL) unsalted butter, softened
4 slices duBreton Sliced Cooked Ham
2 cups (500mL) Emmental cheese, grated 
1 Tbsp. (15mL) Canola Oil 
2 large eggs 
2 fresh chives, finely diced 

Béchamel
2 Tbsp. (30mL) butter unsalted 
2 Tbsp. (30mL) All purpose flour 
1 cup (250mL) 2% milk 
1/2 tsp (2-1/2mL) nutmeg, ground
 Salt & pepper, to taste 
Preparations
Béchamel
In a small pot over medium to high heat, melt the butter. Continue cooking until it starts to bubble and turn slightly brown, approximately 1 minute. Slowly add flour, continually whisking until it starts to clump. Slowly add milk and continue whisking until sauce is smooth and velvety in texture, approximately 1 minute more. Add nutmeg, salt and pepper. Stir well and remove from heat and leave covered until needed.
Heat oven to 375°F (190°C). Slice bread, butter all sides and place 2 slices on a large baking sheet, lined with parchment paper. On top of each, place a slice of ham followed by a handful of cheese, fully covering the ham. Close sandwich with remaining bread, top with another slice of ham and remaining cheese.
Toast the sandwiches in the oven for 4 to 5 minutes, or until the cheese is melting and starting to brown. Remove from oven and evenly spoon béchamel sauce over sandwich to completely cover them.
Set oven to broil on high temperature. Once heated, return sandwiches to oven and broil for 2 to 3 minutes, or until sauce and cheese are bubbling and starting to brown. Take care to watch the sandwiches closely to ensure they don't get burned. Remove from oven.
Heat oil in a medium frying pan over medium to high heat. Cook eggs to preference. For Sunny Side Up, crack both eggs and fry for approximately 2 to 3 minutes or until the whites are set while the yolks remain soft. Place one egg onto each sandwich, garnish with chives and serve hot.