Recipes
Fortune cookies with chocolate and maple candied bacon
10 mins of preparation + 60 cooking time
12 servings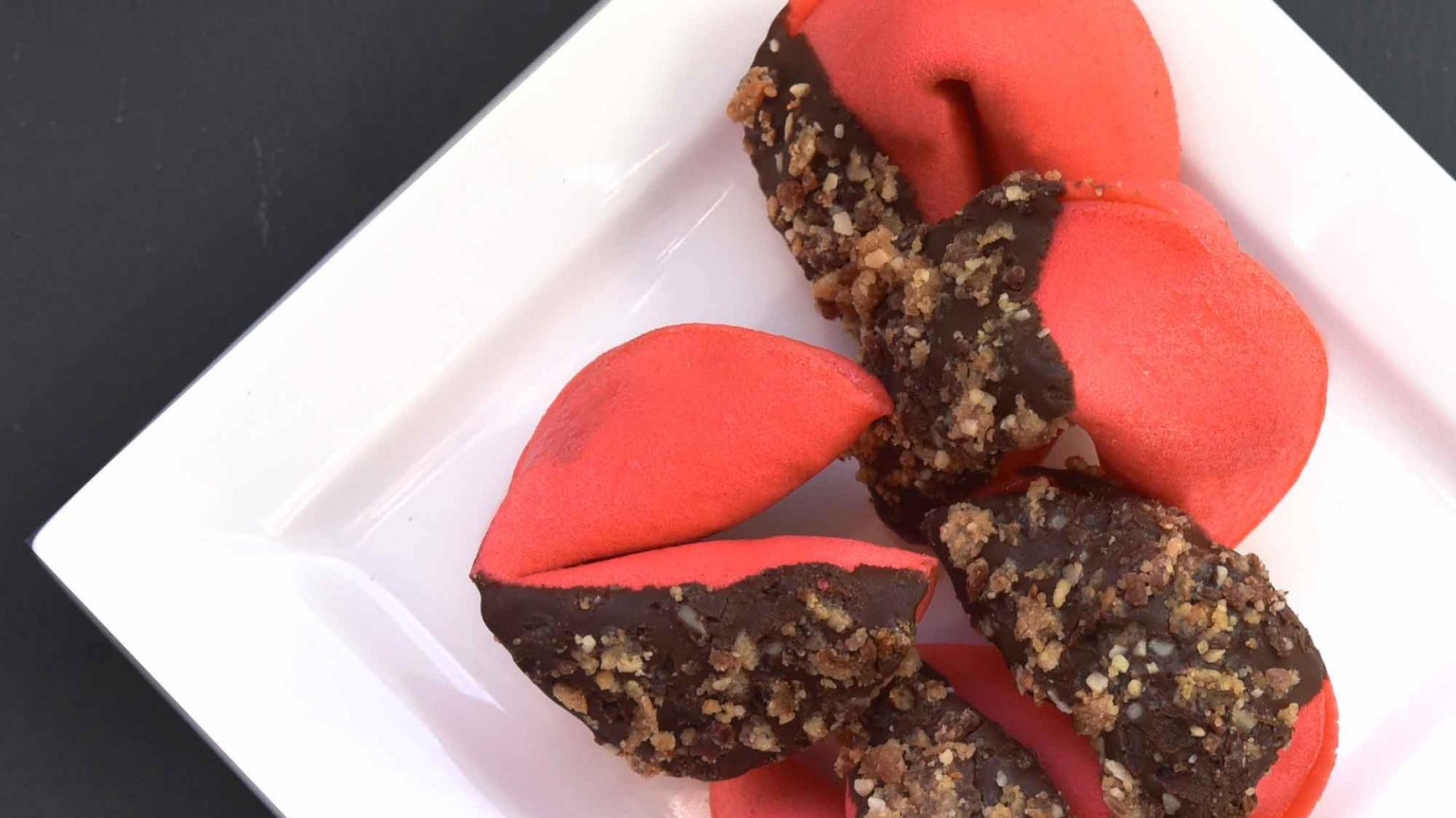 Ingredients
1/4 cup (60mL) almonds
1/2 cup (120mL) brown sugar
2 Tbsp. (30mL) maple syrup
1 pack of duBreton Bacon
4 egg whites, room temperature
1 cup (240mL) granulated sugar
1/4 cup (60mL) rice flour, sifted*
1 cup (250mL) all purpose flour, sifted
2 tsp. (10mL) cornstarch
1/2 tsp. (2.5mL) salt
1/4 cup + 2 Tbsp. (90mL) canola oil
1/2 tsp. (2.5mL) vanilla extract
1/2 tsp. (2.5mL) almond extract
3 Tbsp. (45mL) water**
1/4 tsp. (1.25mL) Red Food Colouring***
1/4 cup (60mL) dark chocolate chips, melted
12 custom fortunes, typed or handwritten on paper
Preparations
Preheat the oven to 350°F (175°C).  Line a baking sheet with foil and place an oven safe baking rack on top.
In a food processor, chop almonds into small pieces then set aside. In a small bowl, mix together brown sugar and maple syrup. Place bacon strips on the rack and brush one side of the bacon with the sugar mixture. Sprinkle almonds on top, reserving about half. Bake for 8-10 minutes. Flip the bacon, brush with sugar mixture and sprinkle with remaining almonds. Bake for another 8-10 minutes, check bacon frequently through oven door so not to let oven heat escape to ensure it doesn't burn. Allow the bacon to cool on parchment paper, then crumble in the food processor. Set aside.
Using a whisk or a handheld mixer, whip egg whites until frothy (creamy with lots of bubbles, not stiff) for about 2 minutes. In a separate bowl, sift together the dry ingredients. Make a well in the centre of the ingredients. Add all wet ingredients but egg whites and combine until the mixture is paste-like. Slowly add half of the egg whites and mix. Add remaining egg whites and mix for about 1 to 2 minutes until mixture is about the consistency of crepe batter. Add red food colouring gel or paste and mix well to eliminate any streaks. You may need to add more food colouring to get the desired tint.
Working in batches, use a #24 cookie scoop (or 2 Tbsp./30mL spoon) to place a scoop of cookie batter onto a parchment paper or silicone mat-lined cookie sheet. Spread out the batter into a 5-6"circle by swirling it with the back of the scooper or spoon. Make 3 to 4 cookies per tray****. Bake for 8 to 10 minutes.
Remove cookies from oven, then flip each over. Working quickly and while cookies are still warm, place a fortune in the centre of each cookie and fold the cookie in half using a metal spatula. Pick up a cookie; with the open seam facing up, fold it in half over the lip of a cup by pulling the ends down and resembles the shape of a fortune cookie. Place the cookie in a muffin tin to retain its shape as it cools.  Repeat until you all cookie batter is used.
Meanwhile, melt the dark chocolate chips using either a double boiler or heatproof bowl set over a pot a simmering water (alternatively, melt the chocolate in the microwave, stirring every 30 seconds). Dip half of the cookie into the melted chocolate, sprinkle with candied bacon crumble and return to cookie sheet.  Refrigerate for a few minutes until the chocolate has hardened.