Recipes
Decadent italian porchetta sandwich
10 mins of preparation + 2 cooking time
3 servings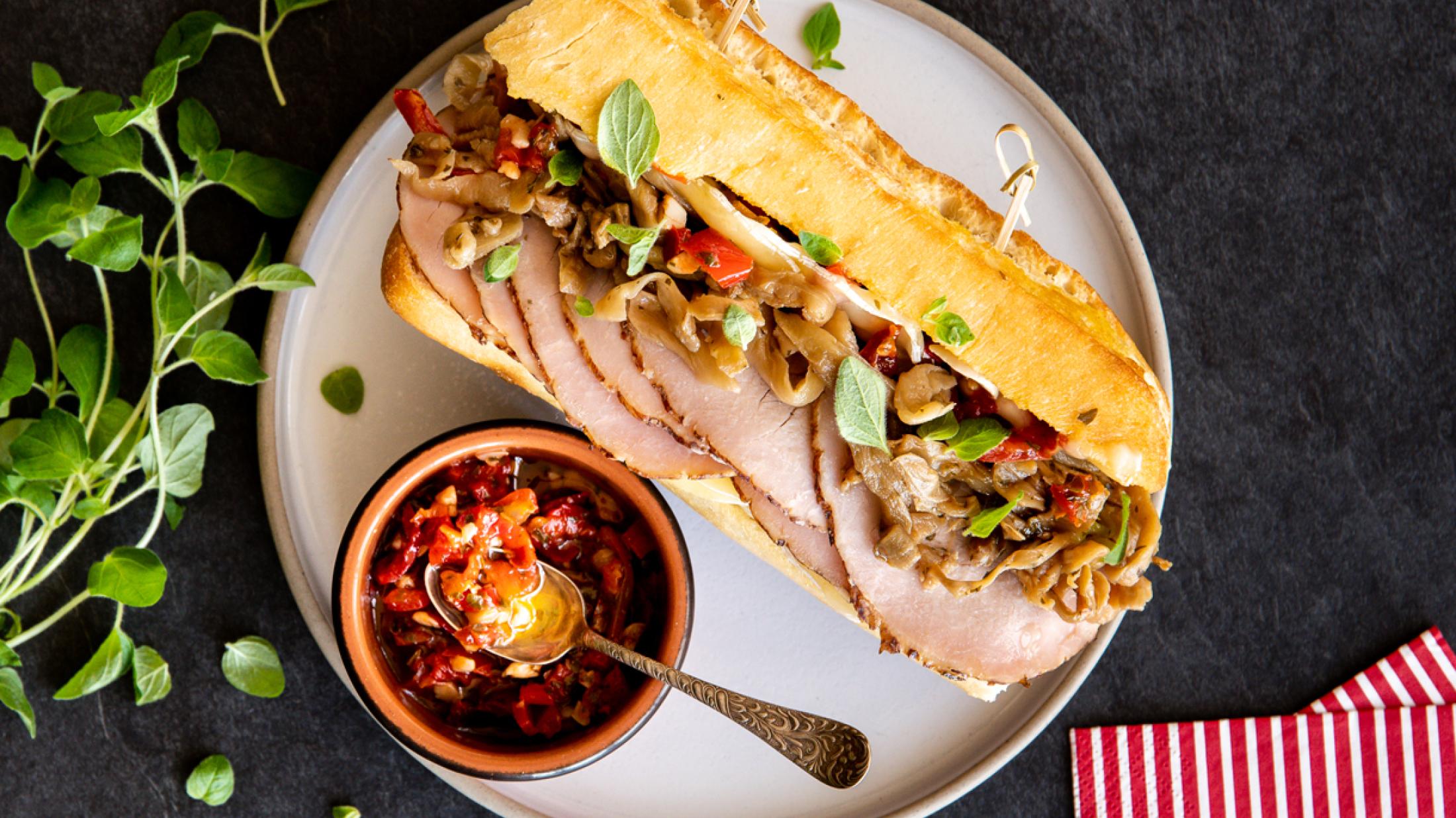 Ingredients
1 whole baguette, cut into three pieces
250 mL (1 cup) homemade aioli (*see recipe)
2 packages of duBreton Old Fashioned Cooked Pork Loin
12 slices Provolone cheese
375 mL (1 ½ cups) jarred marinated eggplant (Italian condiment sold in grocery stores)
1 clove of garlic
1 tbsp. olive oil
80 mL (1/3 cup) store-bought peperonata (condiment made from peppers and garlic)
Fresh oregano to taste
Homemade aioli:
1 egg
30 mL (2 tbsp.) Dijon mustard
1 clove garlic, chopped
180 mL (3/4 cup) canola oil
180 mL (3/4 cup) olive oil
Salt and pepper to taste
Preparations
Aïoli :
Pour ingredients into a container that is taller than wide.
Using a hand blender, grind the ingredients and create an emulsion by gently moving the blender foot up and down.
* The mixture makes 1 ½ cups.
* This mixture can be refrigerated for an hour before using in the sandwich (makes a more compact sauce).
Sandwiches :
On a work surface, brush the inside of the bread with homemade aioli.
Top with cheese slices.
Place cheese sandwiches in oven and broil (550°F) for 2 minutes or until cheese begins to melt.
Remove from oven.
Top with pork slices, eggplant and peperonata.
Close sandwiches.
Enjoy!