Recipes
Yellow thai curry pork
120 mins of preparation + 20 cooking time
2 servings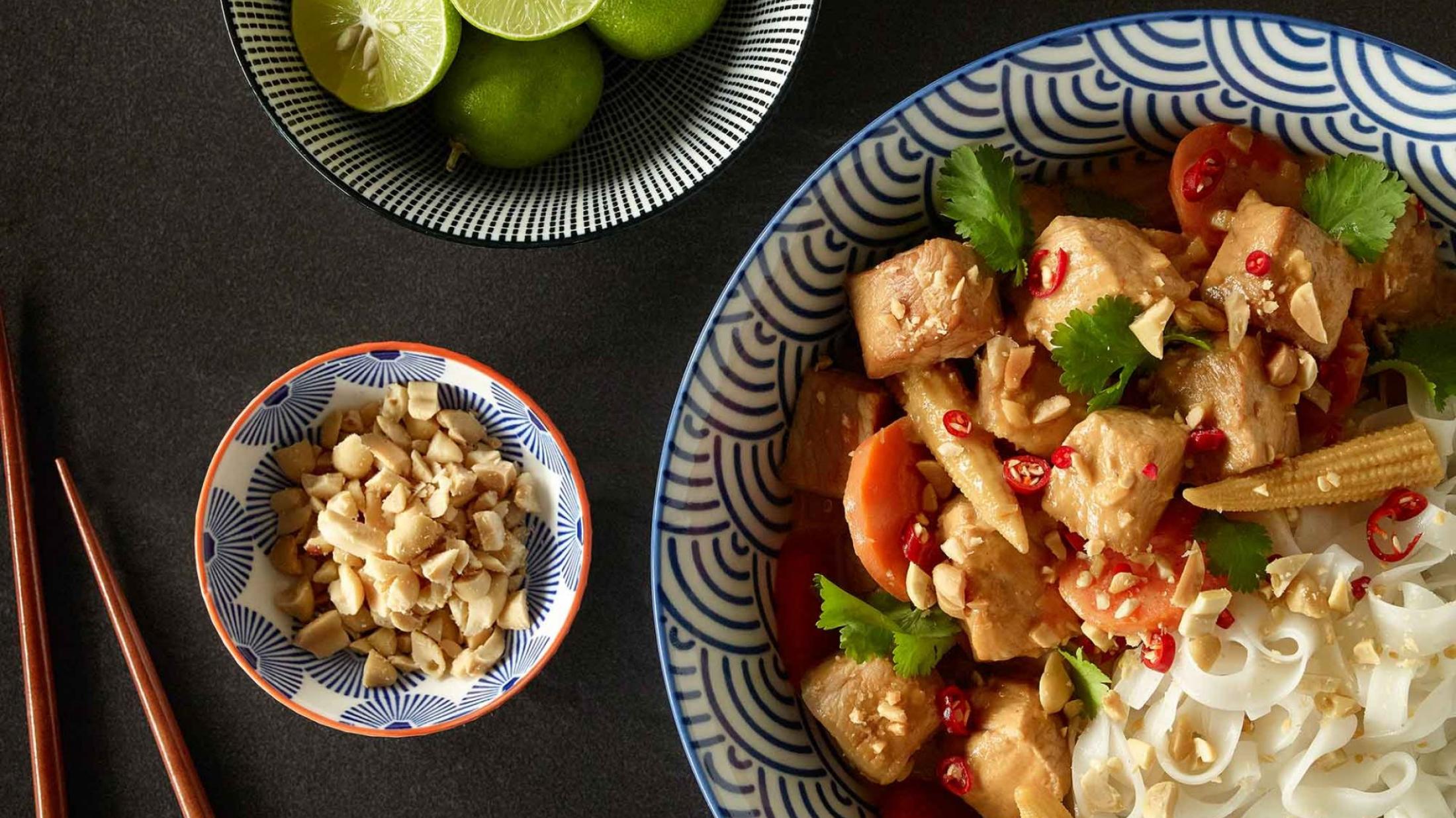 Ingredients
3 Tbsp. (45mL) soy sauce 
1 fresh lime, squeezed 
1 Tbsp. (15mL) fresh ginger 
1 Tbsp. (15mL) brown sugar 
3 cups (750mL) water, salted
2 servings (225 g) dried rice noodles
2 Tbsp. (30mL) sesame oil 
2 tsp. (10mL) canola oil 
1 Tbsp. (15mL) garlic, finely diced 
1/4 cup (75mL) carrots, sliced into 1/4 inch thick rounds 
1 cup (250mL) canned baby corn, rinsed 
1 Tbsp. (15mL) yellow curry powder
1 tsp. (5mL) fish sauce 
1 Tbsp. (15mL) Sriracha hot sauce 
1/2 cup (125mL) vegetable stock 
1 can (400mL) coconut milk 
1/4 cup (75mL) crushed peanuts 
1 fresh red Thai Chilli, finely diced 
Cilantro leaves, stems removed, for garnish 
Preparations
Cut pork into ¾ inch pieces and place in a medium sized mixing bowl. Add soy sauce, lime, ginger and brown sugar. Stir well, cover and refrigerate for 1 to 2 hours prior to cooking. 
In a large pot bring salted water to a boil over high heat. Add the rice noodles and cook for 2 to 3 minutes or until soft. Drain water and sprinkle in sesame oil to prevent noodles from sticking. Set aside until needed. 
Heat oil in a large sauté pan or wok over medium-high heat. Add garlic, carrots, corn, curry powder, fish sauce and hot sauce cook for 2 to 3 minutes or until vegetables are soft and fragrant. 
Add pork and cook for 3 to 5 minutes or until cooked through. Pour in the vegetable stock and stir well. Add coconut milk and cook for 2 to 3 minutes or until liquid is slightly reduced and thickening. 
In large serving bowls, divide rice noodles and top with pork curry. Garnish with peanuts, Thai Chilies and cilantro.