Recipes
Caribbean jerk pork chops with pineapple salsa
15 mins of preparation + 4 cooking time
6 servings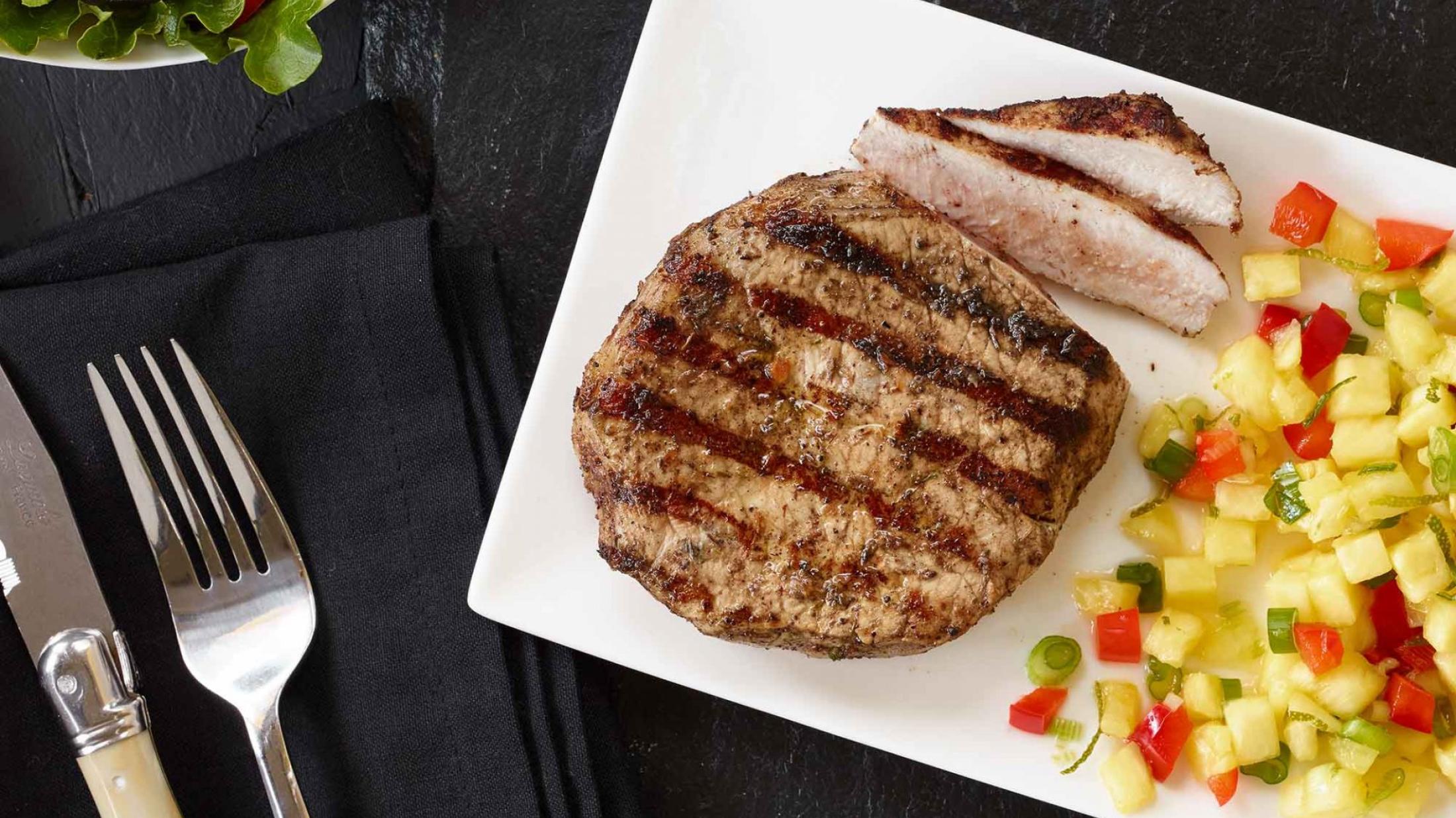 Ingredients
6 (2 packages)

duBreton Boneless Loin Chops, Centre Cut

1 Habanero Chili Pepper, Stem Removed
3 Green Onions
¼ Cup Canola Oil
1 Lime, Juiced
1 tbsp (15 mL) Soy Sauce or Tamari
1 tbsp (15 mL) Garlic Powder
2 tsp (10 mL) Dried Thyme
2 tsp (10 mL) Allspice
1 tsp (5 mL) Brown Sugar
1 ½ tsp (7 mL) Salt
½ tsp (2 mL) Pepper
½ tsp (2 mL) Cinnamon
Pineapple Salsa:
2 Cups (500 mL) Pineapple, Finely Diced
¼ Cup  (60 mL) Red Pepper, Finely Diced
1 Green Onion, Minced
1 Lime, Zested and Juiced
1 tbsp (15 mL) Honey
¼ tsp (1 mL) Salt
Preparations
In a food processor, purée habanero chili pepper, green onions, oil, lime juice, soy sauce, garlic powder, thyme, allspice, brown sugar, salt, pepper and cinnamon until smooth.
Place pork chops in a shallow bowl, and spread with jerk marinade. Marinate at room temperature, for 30 minutes, turning occasionally. You can also marinate the chops in the refrigerator for up to one day.
Preheat the BBQ to medium heat (350° to 450°F).
Mix together all ingredients for the salsa.
Grill the pork chops over direct heat, with the lid closed, 2 minutes per side. Remove from grill and serve with pineapple salsa.