Recipes
Chocolate fondant with caramelized bacon bits
25 mins of preparation + 40 cooking time
4 servings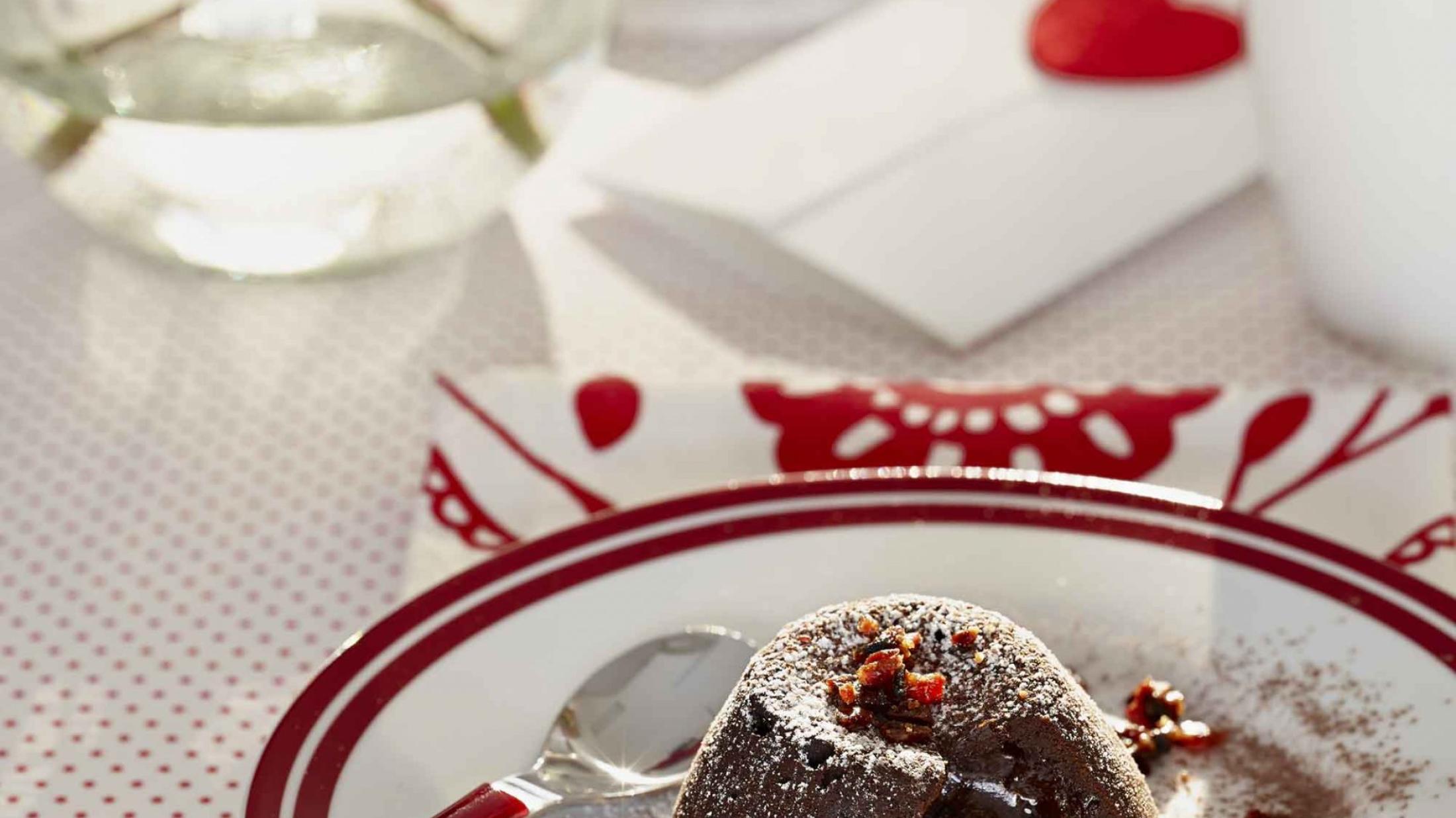 Ingredients
4 slices of duBreton Black Forest Bacon
45 mL (3 tbsp) icing sugar
15 mL (1 tbsp) flour
15 mL (1 tbsp) cocoa
15 mL (1 tbsp) butter
125 mL (½ cup) dark or semi-sweet chocolate, coarsely chopped
80 mL (⅓ cup) butter
2 eggs
80 mL (⅓ cup) brown sugar
80 mL (⅓ cup) flour
Preparations
Preheat oven to 190°C (375°F).
Cook the bacon slices for 15 to 20 minutes. Drain off any excess fat. Chop up the cooked bacon and transfer it to a bowl.
Add the icing sugar and mix well to coat the bacon pieces.
Return to oven for another 5 to 10 minutes or until the bacon is crisp and caramelized. Handle carefully as the melted sugar is very hot. Transfer to a bowl to cool quickly. When the caramelized bacon has cooled, chop it up again.
Mix the flour and cocoa together. Butter 4 medium ramekins and coat with the flour and cocoa mixture.
Melt the chocolate and butter together in a microwave oven.
Beat the eggs with the brown sugar for 3 minutes. Incorporate the cooled melted chocolate, flour and ¾ of the caramelized bacon.
Distribute the mixture among the ramekins and bake on the middle oven rack for 12 to 15 minutes. The centres should still be soft (gooey and slightly runny). Turn the ramekins out onto plates and serve hot topped with the remaining caramelized bacon and dusted with cocoa and icing sugar.