Recipes
Empanadas with organic bacon, fennel, apple and sage
120 mins of preparation + 45 cooking time
12 servings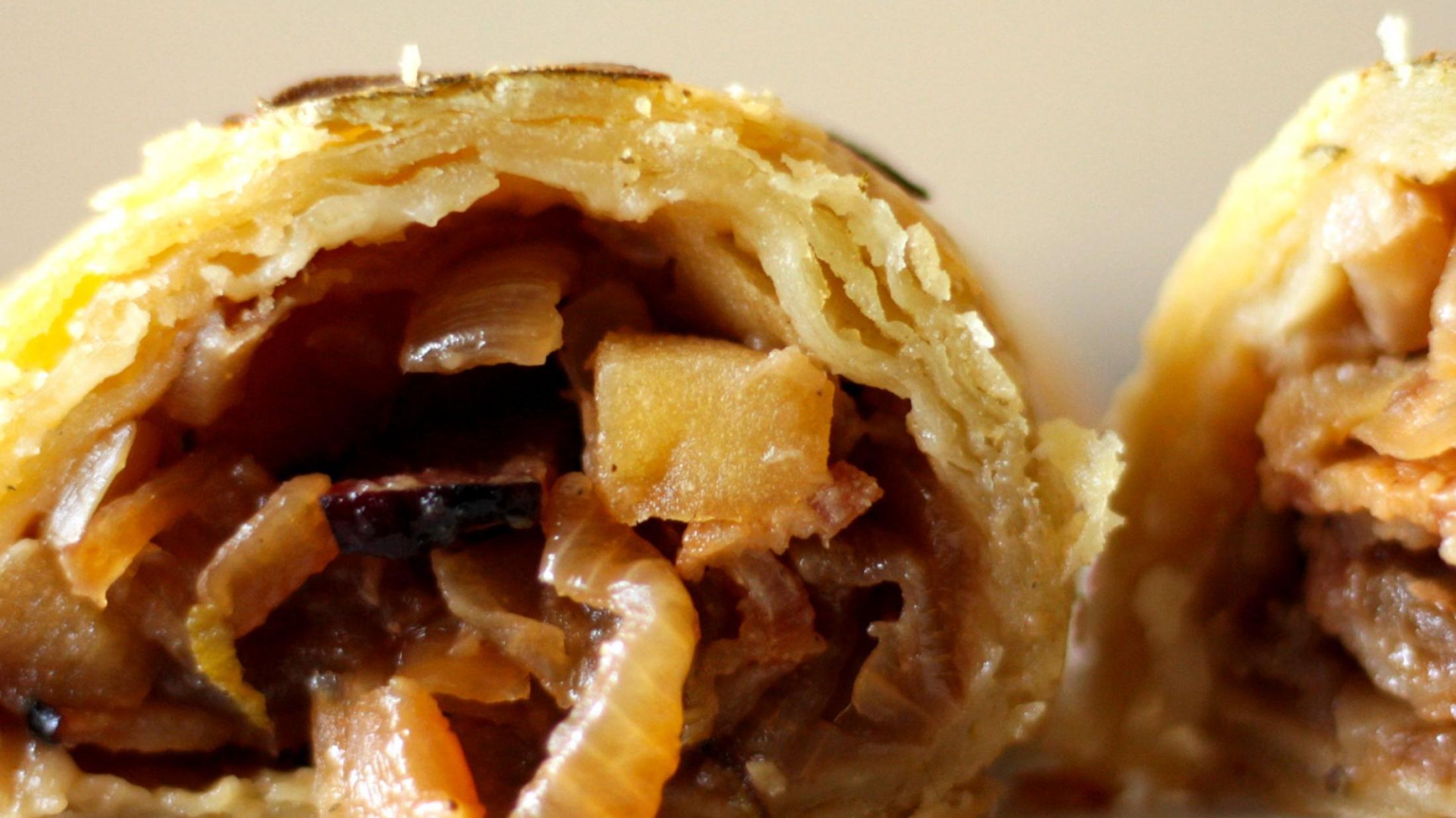 Ingredients
Empanada Dough:
 4 ½ cups (1000 ml) all purpose flour, sifted (plus extra for dusting)
1 tbsp salt
1 cup (250 ml) unsalted butter, chilled
2/3 (150 ml) cups ice cold water
3 eggs, 1 set aside for assembly
2 tbsp (30 ml) of white vinegar
2 tbsp (30 ml) water
Filling:
16 slices

duBreton Black Forest Bacon

, reserve bacon fat
2 tbsp (30 ml) olive oil, divided
2 cups onion (500ml), sliced into ½ cm thick discs
2 tbsp (30 ml) unsalted butter
2 cloves garlic, minced
1 cup fennel (250 ml), finely minced
2 cups apple (500 ml), peeled, cored, and cut into ½ cm cubes
2-3 tbsp (30-45 ml) chicken or vegetable stock
2 tbsp (30 ml) fresh sage, minced, plus extra whole leaves for garnish
1 tbsp (15 ml) black pepper, freshly cracked
Pinch of salt
Preparations
Empanada Dough:
Sift the flour and salt together into a large bowl.
Slice chilled butter into small cubes and add to flour. Mix together using fingers or pastry blender until mixture is crumbly with lumps of butter. Whisk together 2 eggs, chilled water and vinegar and add to flour-butter mixture. Mix sparingly with a large fork (or on low in a food processor) until just combined. At this point, the mixture will look uneven and not completely combined; fret not, it will come together.
Turn out the dough onto a lightly floured surface and knead gently (about five to ten times) until the mixture comes together. Form into a ball, wrap tightly in plastic wrap and chill in the refrigerator for at least one hour; up to four hours.
Filling:
Preheat oven to 400F. Arrange the bacon on a large foil-lined baking sheet; ensuring the foil comes up the sides providing full coverage.
Bake until thoroughly cooked, but soft, about 15 minutes. Remove bacon from oven, let bacon cool slightly and roughly chop into rough 1-inch pieces; set aside. Very carefully, pour the rendered bacon fat from the sheet into an ovenproof dish; set aside.
Set a Dutch oven or other large pot over medium heat. Add 1 Tbsp olive oil and onions; sauté over medium heat until onion is just softened. Reduce heat to medium low, continue to cook, stirring frequently for about 30 minutes.  Once the caramelized colour is nearly achieved add butter and garlic. Stir to melt. Remove from the pot.
In the same pot add remaining oil and fennel; sauté over medium-low heat until fennel is soft and translucent - about 10 minutes.
Add apple and stock and cook another 10 minutes. Add the minced sage, bacon, salt, pepper, and 1-2 Tbsp of reserved bacon fat; mix well. Remove from heat and let cool to room temperature.  It is important for the filling to be cool when assembling the empanadas, otherwise, the butter in the dough will melt.
Once the filling is cool, remove dough from refrigerator and cut in half.
On a floured work surface roll dough out until it is about ¼ inch thick.
Cut into 6-inch circles using a dough cutter or plate and sharp paring knife. Repeat with remaining dough.
Assemble des empanadas:
Whisk together the remaining egg and 2 Tbsp of water to create an egg wash.
One at a time, assemble the empanadas. Place 1/3 cup of filling in the centre of the circle. Brush the entire outer edge of dough with egg wash; fold the dough over the filling making half circle and pinch the edges together. Crimp the edges using the prongs of a fork. Brush egg wash on the top of the empanada.  Garnish with a whole safe leaf to the top, sealing with another swipe of egg wash. Repeat until you have used up all the dough and filling.
To prepare: 
Fresh cooking
Preheat oven to 400F. Combine 1 egg and 2 Tbsp water in a mug and whisk.
Arrange empanadas on a parchment-lined baking sheet and bake at 400F for 25 minutes.
These empanadas can be made in advance and can freeze for up to one month.
Cooking from frozen
Place frozen empanadas on a parchment-lined baking sheet and brush generously with egg wash.
Bake for 30 minutes, or until golden brown.