Recipes
Lobster fondue mac and cheese with crispy bacon topping
20 mins of preparation + 15 cooking time
4 servings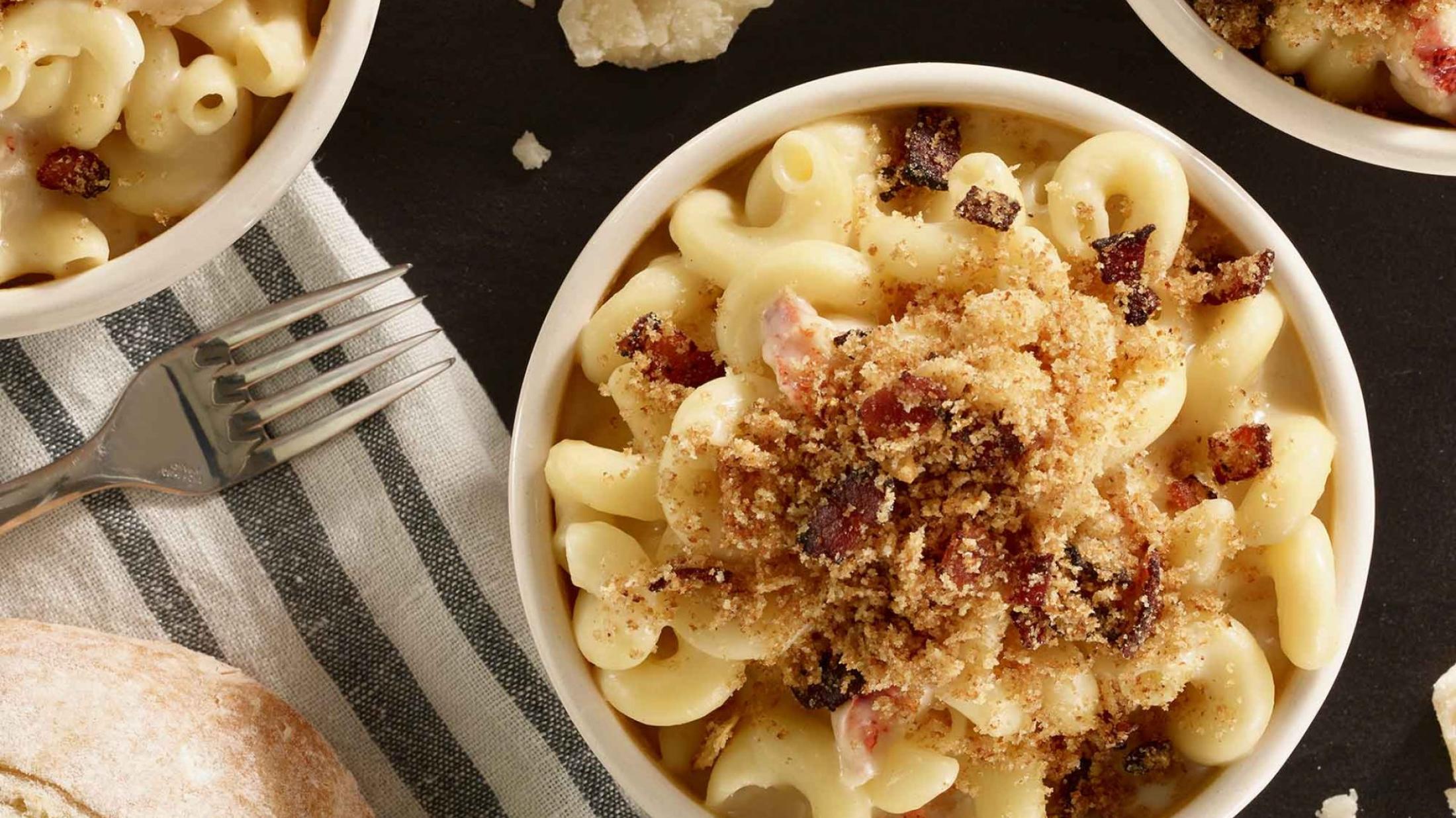 Ingredients
Lobster fondue mac and cheese:
2 lobster tails
2 1/4 cups (225g) cavatappi or other short cut, macronni-type pasta
1 cup (250 mL) crisp, dry white wine
1 tsp (5 mL) kosher salt
1 clove garlic, grated
3/4 cup (180 mL) 2% evaporated milk
1 tbsp (15 mL) cherry brandy or liqueur
1 cup (100g) Gruyere cheese
1 cup (100g) Emmental cheese
Ground black pepper
Cripsy bacon topping:
1 cup (250 mL) fresh bread crumbs
1/2 package duBreton Black Forest Bacon
1 clove garlic, sliced thinly
1 tbsp (15 mL) butter
1/8 cup (15g) freshly grated parmesan
Preparations
Lobster:
Add 1 cup of water in a pressure cooker and set the two lobster tails on a pressure cooker safe trivet, shell side down.
Steam on low pressure for 3 minutes.
Immediately shock the lobster in an ice bath to stop if from cooking further.
Remove shell, chop lobster meat and set aside.
Cripsy bacon topping:
Chop uncooked bacon into to small pieces and fry in a small pan until it starts to get crispy.
Drain all but approximately 1 tbsp (15 mL) of bacon grease from the pan. Add garlic to bacon grease. Stir around for approximately 30 seconds and add butter.
Add bread crumbs and toss with the bacon bits until evenly coated. Continue frying for until the bread crumbs are brown and crispy (approximately 3-4 minutes)
Grate parmesan over top of the bread crumbs, fold in and continue cooking for 30 seconds.
Remove from heat and set aside.
Mac and cheese:
Add pasta, water, wine, salt and grated garlic to pressure cooker pot. Cook on high pressure for 4-5 minutes.
Change pressure cooker to sauté setting, and bring remaining water and pasta to a simmer. Add evaporated milk and cherry liqueur.
Continue simmering for approximately 3 minutes. Turn off pressure cooker.
Remove pot from pressure cooker and add lobster to pasta. Add cheese, a handful at a time, stirring constantly until it's melted and creamy.
Ladle the pasta into a bowl and top each bowl with a generous handful of crispy bread bacon toppings.
Serve with salad.
Don't have a pressure cooker?
Lobster can be easily cooked a number of ways, including:
Boiled in salted water for 1 minute per ounce.
Broiled in the oven at 370F/190C for 1.5 minutes per ounce.
Pan seared over medium heat in butter or oil for approximately 3 minutes per side.
Grilled over medium heat for 3-5 minutes per side.
For the Mac and Cheese:
In a large pot, bring 2 ½ cups (625 mL) water, white wine and salt and grated garlic to a boil
Add the pasta and cook on medium heat until pasta is cooked al dente (refer to pasta package for recommended cooking times)
Add the evaporated milk, brandy and simmer for 3 minutes
In the meantime, toss the grated cheese in 2 tsp (10 mL) cornstarch (cornstarch not included in the ingredients above)
Gradually add the cheese, stirring frequently to make sure the cheese melts and becomes a creamy consistency. Add the lobster
Ladle the pasta into a bowls and top each bowl with a generous handful of crispy bread bacon toppings.