Recipes
Cider and apple risotto with za'atar ground pork and roasted brussels sprouts
10 mins of preparation + 45 cooking time
4 servings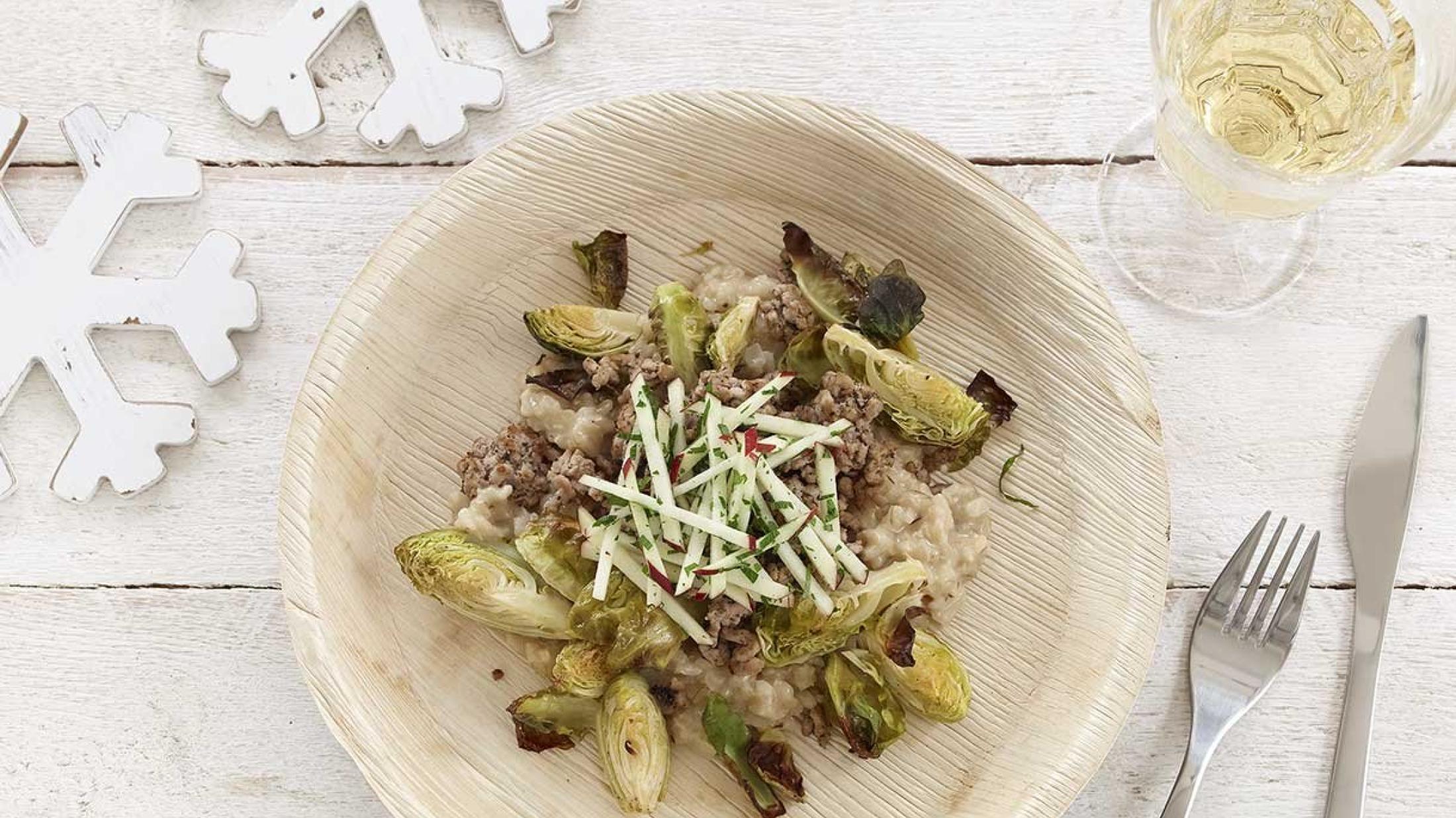 Ingredients
2 Tbsp. (30mL) organic olive oil
3 cloves organic garlic, minced
1 organic onion, chopped
1 cup (250mL) organic short-grain brown rice
1-1/4 cup (310mL) organic cider
1 tsp. (5mL) organic dried thyme
2 organic bay leaves
3 cups (750mL) organic chicken broth, heated
1 cup (250mL) organic firm cheese (e.g. old cheddar, parmesan, Swiss), grated
Sea salt and fresh ground pepper
3 cups (750mL) organic Brussels sprouts, quartered
1 package duBreton Organic Extra Lean Ground Pork
2 tsp. (10mL) za'atar (traditional Middle Eastern spice blend)
1 cup (250mL) organic apples, julienned
1/3 cup (80mL) fresh organic parsley, chopped
Preparations
Heat half the oil in a pan over medium heat and sauté garlic and onion for 5 minutes. Add rice and mix well, ensuring it is coated with oil. Add cider,  thyme and bay leaves. Continue cooking, stirring frequently. When the rice has absorbed nearly all of the liquid, stir in 1/2 cup (125mL), allowing rice to absorb broth. Repeat until all broth has been added. Continue cooking until rice is tender then stir in cheese. Season to taste.
Preheat oven to 425°F (210°C).
Meanwhile, remove outer layers of leaves from Brussels sprouts and place sprouts and leaves on a baking sheet. Pour the remaining oil over top and season generously. Stir well and bake for 15 minutes, stirring again halfway through.
When risotto is almost done, brown pork in a pan over high heat, season and add za'atar.
In a bowl, mix apple and parsley and season.
Divide risotto between four deep dishes. Top with pork, roasted Brussels sprouts and apple mixture.