Recipes
Grilled sausage pineapple upside down cornbread cake
10 mins of preparation + 30 cooking time
8 servings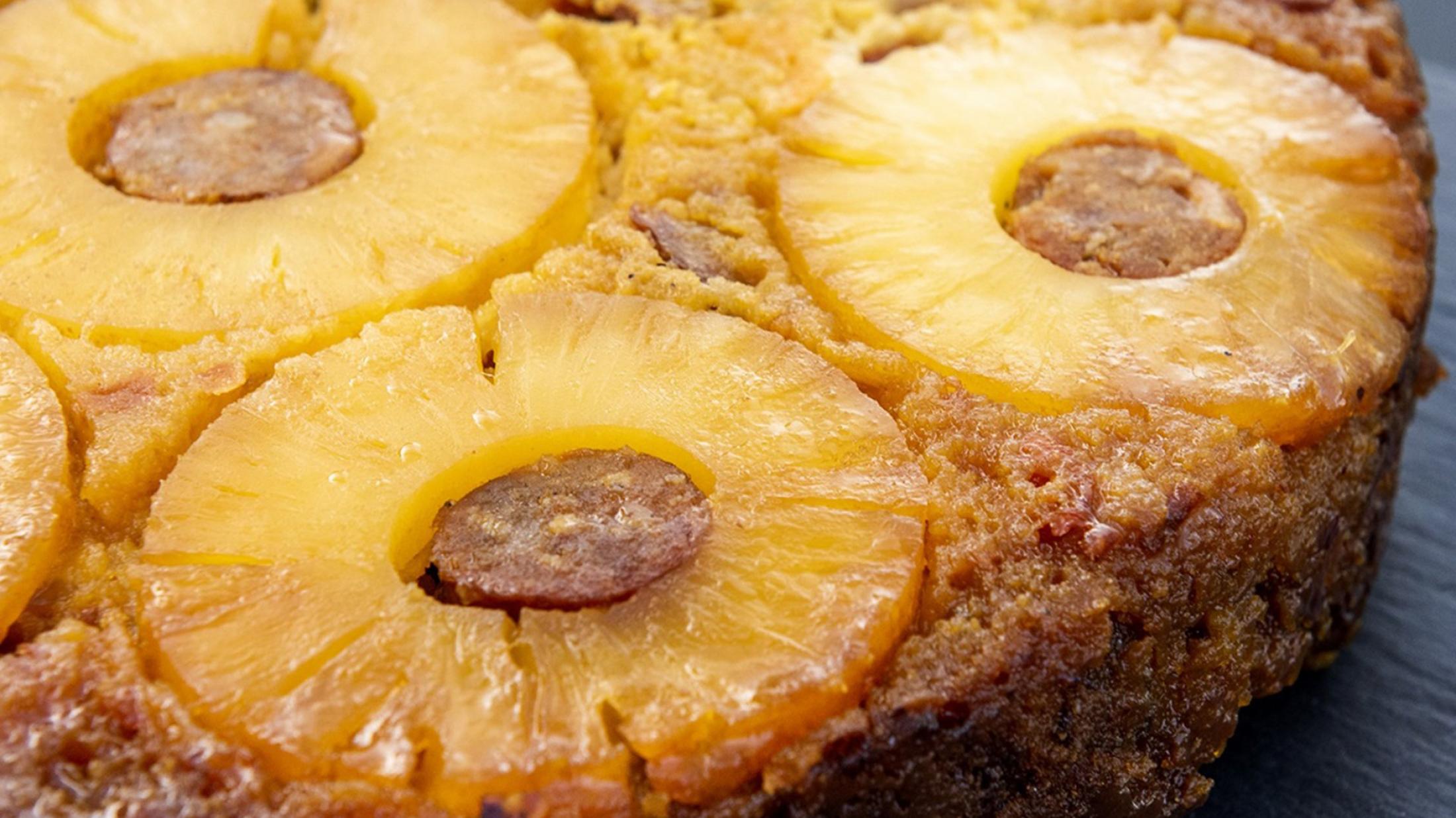 Ingredients
For the topping:
1/4 cup (60mL) butter, melted
1 cup (250mL) brown sugar
1 can pineapple rings
For the cornbread:
1 package of duBreton Mild Italian Sausages
1 cup (250 mL) all-purpose flour
1 cup (250 mL) cornmeal
1 tsp. (5 mL) baking powder
1/2 tsp. (2.5 mL) baking soda
1/2 tsp. (2.5 mL) paprika
1/2 tsp. (2.5 mL) garlic powder
1/2 tsp. (2.5 mL) salt
1/2 tsp. (1 mL) black pepper
1/2 cup (125 mL) melted butter
1 cup (250 mL) buttermilk
2 farm fresh eggs
1/4 cup (60mL) honey
1 jalapeno, finely minced
1 cup (250 mL) sharp cheddar cheese
1/2 cup (125 mL) red onion, minced
Preparations
Allow your grill to preheat over medium high heat for 10-15 minutes. Cook the pork sausages over direct heat until fully cooked. Remove from grill and allow to rest on a plate partially covered in aluminum foil.
Grease the sides of a 9-inch cast iron pan and add the melted butter. Sprinkle on the brown sugar. Arrange the pineapple rings to cover the bottom in a single layer. Cut sausages in 1/2 inch chunks and fill each hole in between pineapple rings with a piece of sausage. Chop any remaining sausage into small chunks and set aside.
In a medium sized bowl, combine all dry ingredients. Make sure that there are no lumps before moving on.
Add the buttermilk, butter, eggs, and honey. Stir until just moistened. Do not overmix or the cornbread will be tough!
Fold in cheese, red onions, chopped jalapeno and remaining chopped sausage.   
Spread the cornbread mixture over top of the cut sausages and jalapenos, being careful not to disrupt the bottom configuration.
On a barbecue preheated to 400⁰F (200⁰C), grill the cornbread over indirect heat until nicely browned – approximately 20-30 minutes.
Let the cornbread fully cool before cutting into slices.