Recipes
Hearty pork burgers
20 mins of preparation + 15 cooking time
4 servings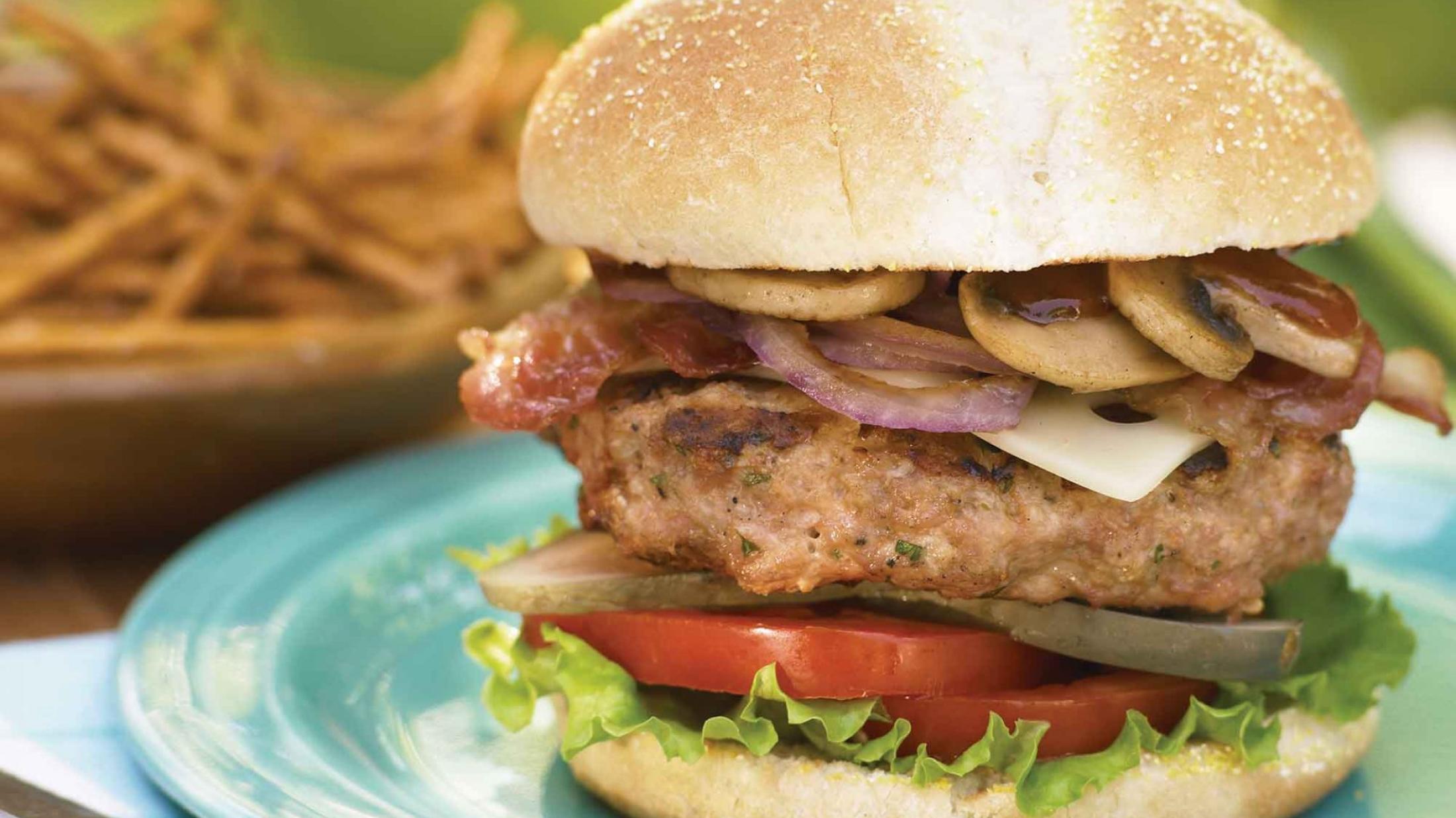 Ingredients
675 g (1-1/2 lbs.) of

duBreton extra-lean ground pork

10 mL (2 tsp.) of steak spice
2 cloves of garlic, chopped
30 mL (2 tbsp.) of fresh parsley, chopped
15 mL (1 tbsp.) of Dijon mustard
5 mL (1 tsp.) of Worcestershire sauce
1 egg
2 slices of whole-wheat bread, in crumbs
Fresh-ground pepper and salt to taste
22 mL (1-1/2 tbsp.) of olive oil
1 red onion, sliced
227 g (8 oz.) of sliced white mushrooms
Garnishes
4 kaiser rolls
80 mL (1/3 c.) of barbecue sauce, home-made or store-bought
4 slices of Swiss cheese
8 slices of bacon, cooked
4 tomato slices
8 dill pickle slices
4 pieces of leaf or Boston lettuce
Preparations
Preheat barbecue to medium-high or conventional oven to 210°C (425°F).
In a bowl, mix all burger ingredients with exception of garnishes. Season to taste.
Divide mixture into 4 portions and form into patties.
Place on grill or on a baking sheet covered with parchment paper in centre of oven. Cook patties for 12 - 15 minutes, turning once.
Pour oil over onion slices and mushrooms, coating thoroughly, and cook on barbecue or over high heat on stovetop.
Heat buns and add patties and all garnishes.