Recipes
Extra lean ground pork meatballs
25 mins of preparation + 25 cooking time
24 meatball servings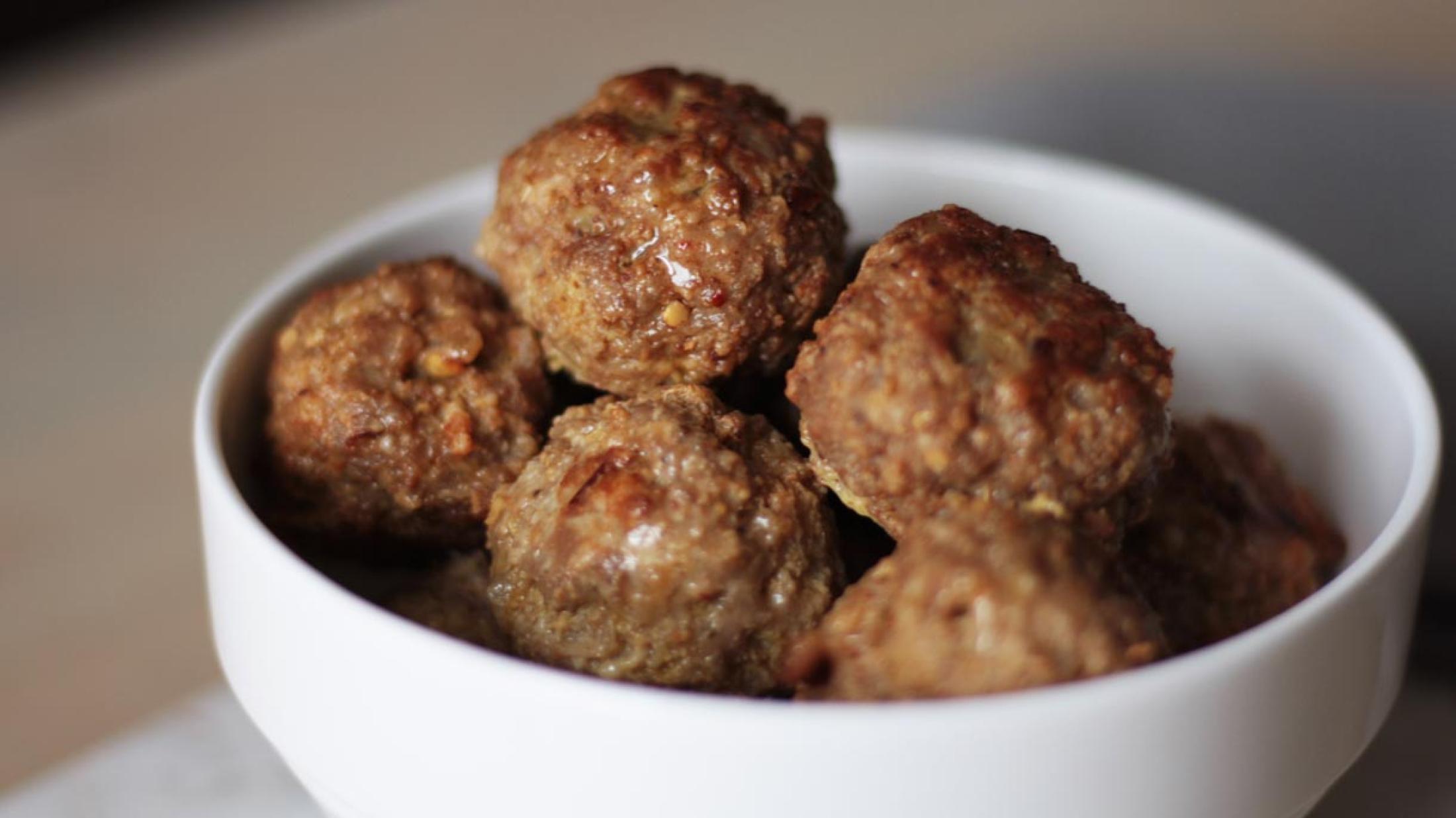 Ingredients
1 lb. (one package, 454 g) duBreton Extra Lean Ground Pork (Organic or Rustic Farm Pork)
2 teaspoons (10 mL) kosher salt
1 shallot, finely diced
1 teaspoon (5mL) olive oil
¼ cup (60 mL) buttermilk
¼ cup, plus 1 tablespoon (75 mL) panko breadcrumbs
1 teaspoon (5 mL) mustard seed
1 teaspoon (5 mL) celery seed
2 cloves garlic, grated on a micro plane
1 teaspoon (5 mL) red chili flakes
1 teaspoon (5 mL) freshly ground black pepper
1 tablespoon (15 mL) soy sauce
1 large egg
2 cups (500 mL) grapeseed or canola oil
Preparations
In a large bowl knead ground pork and salt together, set aside and let rest at room temperature for approximately 15 minutes.
Meanwhile, heat a small pan over medium heat. Add olive oil and gently sauté the shallot. Once softened, approximately 3 minutes, remove from the heat and set aside.
In a separate small bowl combine the buttermilk and breadcrumbs. Set aside for 5 minutes to let the breadcrumbs fully absorb the milk.
Using a mortar and pestle, grind the mustard seed and celery seed. Add to the breadcrumb mixture.
Fold the shallot, breadcrumb mixture, garlic, chili flakes, pepper, soy sauce and egg into the ground pork, kneading thoroughly until fully combined.
Using a tablespoon, form the meat into approximately 1 ounce (30 g) balls and place on a plate. The mixture should render approximately 24 meatballs.
Preheat oven to 350°F and line a large baking sheet with parchment paper.
Place a large Dutch oven or heavy bottomed, high-sided pot over medium heat, add grapeseed or canola oil and heat to 350°F. There should have a fairly deep amount of oil, enough to cover half of the meatball.
Working in batches of eight fry the meatballs on either side, until the outside is golden, approximately 90 seconds total.
Place the meatballs on a parchment lined baking sheet and cook for 18 minutes.
Remove from oven and serve with a variety of dipping sauces.